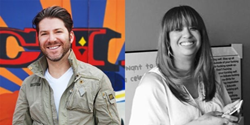 LOS ANGELES, CA (PRWEB) December 20, 2016
BMG has announced the promotion of Andrew Gould and Shani Gonzales to co-heads of A&R Frontline Publishing. Both Gould and Gonzales are based in Los Angeles where they will report to Thomas Scherer, EVP Frontline Publishing U.S.
 
Shani Gonzales joined BMG in February of 2014. She has signed and worked closely with artists and writers such as Bibi Bourelly (Rihanna's 'Bitch Better Have My Money'), Nate Cyphert (Florida Georgia Line's 'H.O.L.Y.'), MeLo-X (Beyonce's 'Sorry'), Labrinth and Poo Bear (Justin Bieber collaborator).
 
Prior to BMG, Gonzales worked for LA Reid at both Epic Records and Def Jam. At Epic, Gonzales signed Travis Scott and at Def Jam, she co-A&R'd multiple Justin Bieber albums. At Warner Chappell, Gonzales signed Claude Kelly (Britney Spears's 'Circus', Kelly Clarkson's 'My Life Would Suck Without You') and Wynter Gordon.
Gonzales was recently recognized on Billboard's 2016 A&R Power Players List.
 
Andrew Gould started at BMG in August of 2012 and has signed top-rated artists such as Andra Day. Gould worked with Andra Day on her hit single, 'Rise Up,' which has been nominated for R&B Album of the Year and R&B Vocal Performance of the Year at Grammy's 2017.
 
Gould has also worked closely with songwriters such as Jake Sinclair (5 Seconds of Summer's 'She Looks so Perfect'), Jason Evigan (Demi Lovato's 'Heart Attack'), The Monsters & Strangerz (Nick Jonas's 'Levels') as well as artists Jon Bellion, MSTR Rogers and Max Frost.
 
Prior to BMG, Andrew worked at EMI Music Publishing where he was an early champion of Sia, and worked closely with Savan Kotecha (Ariana Grande and Usher), Jim Jonsin (Lil Wayne's 'Lollypop'), and Toby Gad (Beyonce's 'If I Were a Boy'). Prior to EMI, Gould worked in the A&R department at Epic Records, assisting in the making of the label's priority pop projects.
 
Zach Katz, president, repertoire and marketing, BMG US, said, "Shani and Andrew have been an integral part of BMG's growing success over the past four years I am proud to see them ascend to this new position and believe their work, together with the rest of our team, will continue leading BMG and our writers to their greatest heights."
Thomas Scherer, EVP Frontline Publishing, BMG US, said, "Our newly named co-heads will play a key role in inspiring BMG's writers to focus on creating chart-topping songs, expanding our front-line roster and ensuring that BMG consistently has hits in the U.S. and Europe. Shani and Andrew are incredibly talented visionaries with a deep understanding of the magical creative process on a global scale. Each expresses an extraordinary devotion for songs, songwriters, producers and artists."
About BMG
BMG is the new model music company founded by Bertelsmann in 2008 as a direct response to the challenges of music's digital revolution. Key to its innovative approach is the fact it represents the traditionally separate music publishing and recording rights off the same state-of-the-art platform internationally. BMG is already the world's fourth biggest music publisher and the first new global player in the recordings business in decades. BMG's pitch is unique – a relentless focus on fairness and transparency and service to its artist and songwriter clients. BMG's 14 offices across 12 core music markets now represent over 2,5m songs and recordings, including the catalogues of Chrysalis, Bug, Virgin, Mute, Sanctuary, Primary Wave and Talpa Music, as well as literally thousands of artists and songwriters attracted by its fresh approach. BMG is owned by international media, services and education company Bertelsmann, which also includes the broadcaster RTL Group, the trade book publisher Penguin Random House, the magazine publisher Gruner + Jahr, the service provider Arvato, the Bertelsmann Printing Group, the Bertelsmann Education Group, and Bertelsmann Investments, an international network of funds. With its multi-platform perspective, integrated technology platform and commitment to help artists maximize their income, BMG aims to be the best company in music to do business with.
Media Contact:
Dana Casalino for BMG
dana(at)kitehillpr(dot)com