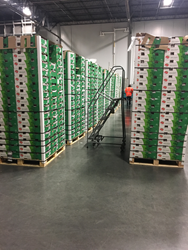 Savannah, GA (PRWEB) December 20, 2016
AGRO Merchants Group, a global leader in cold storage and logistics solutions, is pleased to announce receipt of the first shipment of fresh produce through the Port of Savannah. The fresh Peruvian table grapes were shipped by Divine Flavor, a grower-owned distribution partner of the Mexican-based Grupo Alta. Nordic Cold Storage, a proud member of AGRO Merchants Group, managed the local handling and logistics of the shipment. This achievement is a milestone for both AGRO and the Port of Savannah, as it represents the first shipment of fresh produce imported through the Port and stored in a chilled facility in Savannah.
"We are very excited to work with the AGRO Merchants team on our Peruvian grape program in Savannah. Their superb customer service has been evident since day one and their reputation as an expert third-party service provider in the perishable industry is well founded," says Jose Antonio Martinez, Chief Operating Officer of Divine Flavor.
The fresh Peruvian table grapes will be delivered to retailers located in the Southeast and Midwest U.S. Besides cost savings in transportation, the proximity of the Port of Savannah to Divine Flavor's customers will save up to five days in delivery, allowing retailers to offer the freshest products to their customers.
In response to the rising market demand for fresh produce to be handled through the growing Savannah seaport, AGRO transformed part of the nearly 400,000 square feet of the Nordic frozen facility into a chilled refrigerated space. The converted space is an interim solution while the company completes construction of a new state-of-the-art facility in the Port of Savannah.
To ensure high-level quality of process and leverage leading expertise, AGRO engaged with Lucca Cold Storage, the largest produce import facility in the U.S. Lucca is also a proud member of AGRO Merchants Group and has a long history of offering world-class cold storage and value-added services supporting the fresh produce industry at the Port of Philadelphia.
CBP Agriculture and USDA inspections were completed on site at Nordic, which is now a certified Container Freight Station and legal extension of the Port of Savannah. "Completing the inspections on site at Nordic is vitally important to our customers and to AGRO. It allows our customers to import fresh produce from all over the world and ensure the cold chain is never broken," said Don Schoenl, President of AGRO Merchants Group North America.
About AGRO Merchants Group
AGRO Merchants Group owns and operates 56 facilities in 9 countries across Europe, North America, Latin America and Asia Pacific with more than 750,000 square meters of cold storage space. The company is focused on providing innovative cold chain solutions on a global basis by partnering with the highest quality family businesses and creating new, reliable, and integrated trade networks to help its customers grow. AGRO invests in modern assets, industry-leading technologies, and value-added service offerings to ensure the highest quality supply chain management standards in the industry.
For additional information, please visit AGRO's website at http://www.agromerchants.com.