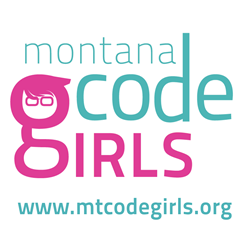 By building computer science training programs for youth, adults and teachers, Big Sky Code Academy is creating Montana's workforce for the new economy.
Missoula, MT (PRWEB) December 20, 2016
Today the Big Sky Code Academy announced that registration for the Montana Code Girls Technovation Montana 2017 competition is open. As the only statewide free after-school coding program for girls and a Technovation Challenge Regional Ambassador, Big Sky Code Academy will host the inaugural Technovation Montana for girls ages 10 – 18. This regional Technovation competition is for girls from Montana and surrounding states who are competing in the global Technovation Challenge to give them an opportunity to meet leaders from the technology community, connect with other Technovation teams from the region and compete for scholarships and prize money.
The Technovation Challenge offers girls around the world the opportunity to learn the necessary skills to become tech entrepreneurs and leaders. These girls learn to identify a problem in their community and create a mobile app solution to address that problem, and then learn how to communicate these ideas and translate them into a fully launched business. Since 2010, more than 10,000 girls from 78 countries have participated in the Technovation Challenge. With the help of volunteer mentors, these participants have produced mobile app startups that have helped address problems in local and global communities the world over.
This year, the Technovation Challenge is being inspired by the United Nations' Sustainable Development Goals. These goals, adopted in September 2015, are focused on ending poverty, protecting the planet, and ensuring prosperity for all. Each goal has specific targets to be achieved over the next 15 years. Montana Code Girls will tackle building a mobile app that solves a problem in their community along 7 themes:

Education
Health
Equality
Peace
Environment
Poverty
"We are proud to be Montana's Technovation Challenge Regional Ambassador and to be bringing Technovation Montana to our state" said Big Sky Code Academy and Montana Code Girls Founder, Devin B. Holmes. "58% of Technovation alumnae enroll in a further Computer Science Course and 26% of Technovation alumnae major in Computer Science in college. Combined with our Code.org Regional Partnership, the Big Sky Code Academy and our adult, youth and teacher programs are building the future technology workforce for Montana."
To learn more about Montana Code Girls and Technovation Montana, please visit the Montana Code Girls website
Big Sky Code Academy™ is an initiative of the America Campaign™, a national non-profit founded in 2015 by serial entrepreneur and philanthropist, Devin B. Holmes, working to improve the lives of all Americans through technology, education and the arts. Along with its Montana Code Girls™ initiative to provide technology training for young women in Montana ages 9 to 19 and its Montana Teachers Teaching Tech™ (MT3), the America Campaign is focused on developing innovative technology focused solutions that create positive impact. The Big Sky Code Academy offers full-time and part-time intensive coding boot camps to train current and future generations of technologists for Montana's technology economy.
Prior to founding the America Campaign, Devin founded StartUpers.com® and Warrior Gateway®, a national non-profit that connected the military community with members of its G.I. Network®, a collaborative of over 220,000 trusted and reliable local service organizations, programs, educators and employers.
More information about the Big Sky Code Academy and its initiatives can be found at http://www.bigskycodeacademy.org