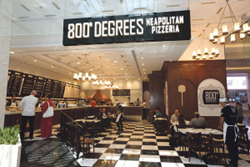 Adding 800 Degrees Pizza as a customer holds great importance as they are key players in the fast casual restaurant space. - Dayna Barringer, Director of Business Development at xtraCHEF
NYC, NY (PRWEB) December 21, 2016
800 Degrees Pizza has chosen xtraCHEF's cost automation technology to automate paper‐invoice processing at all of their California locations.
The fit seemed to make sense as soon as the two companies met in Chicago.
"I had been searching for a system that would help us as we moved accounting functions.  I came across xtraChef at the National Restaurant Association show and was immediately impressed.  Once all setup is complete is truly is as simple as taking a picture and sending it off. The onboarding process takes a little time but xtraChef is extremely responsive during the whole process. Our management and backoffice staff are able to focus on other tasks instead of manually entering data and we were able to reduce some headcount. No more weekly packages having to be picked up or overnighted to the office." – Steve Overholt, CEO, 800 Degrees Pizza
XtraCHEF packages superior technology in a unique architecture that provides a one‐step solution that is both innovative and economical.
"Adding 800 Degrees Pizza as a customer holds great importance as they are key players in the fast casual restaurant space. They have been pivotal in helping us work more efficiently with fast casual concepts and making our product scalable over numerous locations, particularly for QBO customers. We are excited to help provide an invoice processing platform that will assist 800 Degrees Pizza's ability to streamline their BOH processes as they continue to grow." – Dayna Barringer, Director of Business Development at xtraCHEF
About xtraCHEF:
XtraCHEF is a mobile, subscription‐based application that captures, digitizes, maps, and auto‐codes vendor invoices and purchase inventory in real‐time. Extraction technology reads an invoice image line‐ by‐line, warehouses it in the Cloud, and provides timely and accurate reporting that allows restaurants to gain transparency in their workflow and to have a firm grasp on their daily spending across multiple outlets from a simple and easy to use platform.
About 800 Degrees:
800 Degrees serves up its "Old World" Neaopolitan-style pizzas in wood-fired ovens with local ingredients and cured meats and flour imported from Italy. They currently have 9 locations in the US, and 7 locations overseas. 800 Degrees Pizza plans to grow more aggressively through a combination of franchising in the U.S. and internationally, along with company-owned locations.