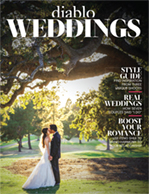 Walnut Creek, CA (PRWEB) January 03, 2017
Diablo Publications has announced the release of its 2017 annual wedding magazine, Diablo Weddings. Diablo Weddings magazine was created to appeal to East Bay brides and grooms and to anyone planning a wedding in the San Francisco Bay Area. Editorial features include an inspirational style guide, wedding stories from seven East Bay couples and an interview with a feng shui expert with suggestions for cultivating harmony and romance.
On average, couples who live in or travel to the San Francisco East Bay spend between $29,159 and $48,598 on their weddings. Diablo Weddings provides couples with insights and inspiration for every aspect of their big day, from choosing the ideal venue to finding the perfect dress.
The new issue appears on newsstands and also on the Diablo Weddings website, diabloweddings.com. The site features content from the magazine, as well as expanded content and photos from real weddings in the East Bay and the surrounding area. A link to a digital edition of the magazine is located on the DiabloMag.com home page.
About Diablo Magazine
Covering topics ranging from travel, culture, and personalities to entertainment, recreation, and food, Diablo magazine is written specifically for the San Francisco East Bay market—from Central Contra Costa, into the Oakland and Berkeley hills, and throughout the Tri-Valley. With locally driven editorial content, beautiful photography, and resource listings, Diablo is a unique celebration of the San Francisco East Bay. Published since 1979, Diablo has been recognized for its editorial and design with numerous awards, including previous Maggie Awards for Best Overall Publication and Best Regional and State Magazine in the consumer category.
About Diablo Publications
For over 35 years, Diablo Publications, an employee-owned company, has been creating award-winning publications, including Diablo magazine, Napa Sonoma magazine, Diablo Weddings, Diablo Arts, Concierge Wine Country, and the Tri-Valley California Visitors Guide. Diablo Publications' custom content division, Diablo Custom Publishing (DCP), provides complete print and online marketing communications and customer publishing services for corporate clients nationwide. For more information, visit diablopublications.com, dcpubs.com, diablomag.com, napasonomamag.com or diabloweddings.com.