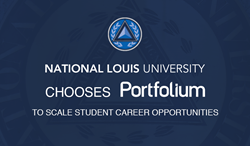 Portfolium provides a user-friendly interface that will enable our students to maximize the benefits of their ePortfolio to springboard their careers and pursue their passions in the workforce
San Diego, CA (PRWEB) December 22, 2016
Portfolium, a cloud-based platform empowering students with lifelong opportunities to capture, curate, and convert skills into job offers, announced today that National Louis University, a Chicago institution offering over 60 distinct degree programs, has chosen Portfolium as the ePortfolio platform for its body of over 7,500 students.
Since its founding in 1886, National Louis University's mission has been to nurture the career opportunities of students by innovating in the areas of teaching, scholarship, community engagement, and service excellence. It is National Louis University's goal to maximize those future opportunities for students by utilizing Portfolium's ePortfolio platform to grow student interaction between the university's Career Services center and skills that are important to future employers. In addition, they will be leveraging Portfolium to quantify student learning outcomes.
"Portfolium provides a user-friendly interface that will enable our students to maximize the benefits of their ePortfolio to springboard their careers and pursue their passions in the workforce," said Steve Neer, Assistant Vice Provost of Advising and Retention at National Louis University. "By focusing on competencies, Portfolium will enable our students to leverage the talents and skills they've nurtured in the classroom to propel them into satisfying and rewarding careers."
"Because National Louis University has always had an innovative, progressive, and diverse approach to education and developing students' future careers," explains Troy Markowitz, VP University Partnerships, "they are primed to maximize the benefit that Portfolium's cloud-based ePortfolio platform provides them."
Additionally, National Louis University will use the Portfolium platform to support their Harrison Professional Pathways program for undergraduate students. This program enables students to focus on an academic pathway that emphasizes career skills at a significant reduced tuition. Because the Harrison Professional Pathways program has a sharp career-skills focus, it is a natural fit to harvest the competencies of the Portfolium platform and bolster student success.
About National Louis University:
National Louis University was founded on the principle that a quality education can transform lives, careers and communities. The mission of NLU is to provide an education that makes a difference. They serve more than 7,500 students at six locations in Illinois and Florida, and at their global business school in Poland.
About Portfolium:
Portfolium partners with colleges and universities to help students transform learning into opportunity. Our ePortfolio network helps millions of students and alumni from over 150 partner institutions manage their skills and launch their careers. Portfolium's cloud-based platform empowers students with lifelong opportunities to capture, curate, and convert skills into job offers, while giving learning institutions and employers the tools they need to assess competencies and recruit talent.
Media Contact:
Sarah Pease or Edgar Rodriguez
Portfolium
917.974.4729 or 951.256.7301
press(at)portfolium(dot)com