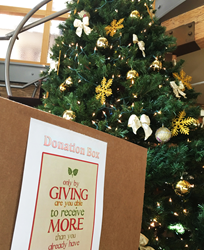 Chicago, IL (PRWEB) December 22, 2016
Yesterday may have marked the first official day of winter, but Chicago has already seen subzero days and over seven inches of snow earlier this month, according to the National Weather Service. With winters like these, the health and safety of people living on the streets of Chicago is at stake even more. These freezing days create one of winter's number one hazards for the homeless – frostbite.
Throughout the month of December, Bird-X and Cozy Products® employees have been bringing in gently used coats, scarves, gloves, hats, and other winter gear. The winter clothing will be distributed to homeless people in the community.
This year it is more important than ever to bundle up, as Chicago sees yet another brutal Polar Vortex. This is when the Arctic cold seeps down to other regions, causing unbearably cold temperatures across certain parts of the country. USA Today reports, "Wind chills this cold can cause frostbite in less than 10 minutes."
According to the City of Chicago website, there are only six warming centers in Chicago, and all of them close at 5 p.m., well before the temperatures drop deeper as the night goes on. One of the warming centers, located at 10 S. Kedzie Ave., is open 24 hours to connect residents of the city with proper shelter offsite.
Bird-X has been the world's leading brand in humane bird and pest control since 1964, and is dedicated to protecting human health, wildlife, and the environment. Cozy Products®, a division of Bird-X, offers energy-efficient, low-watt personal heaters that conserve energy, prevent circuit overloads, and reduce the risk of fire. For information on any of Bird-X's humane pest control products or Cozy Products® space heaters, please call customer service at (800) 662-5021.