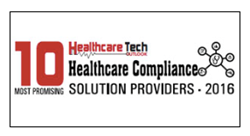 "We at ITSourceTek are proud to be included in this prestigious list," said Brian Arellanes, Founder, CEO & Chairman of ITSourceTek, Inc. "ITSouceTek takes great pride in our ability to provide compliance driven solutions to the healthcare industry."
San Rafael, CA (PRWEB) December 23, 2016
ITSourceTek, Inc. has been recognized as one of the 10 Most Promising Healthcare Compliance Solution Providers 2016 by Healthcare Tech Outlook magazine.
"It's a great honor to select ITSourceTek, Inc. as one among the 10 Most Promising Healthcare Compliance Solution Providers 2016," said Alex D'Souza, Managing Editor of Healthcare Tech Outlook magazine. "ITSourceTek, Inc. helps clients to navigate through the maze of data security options and create customized solutions that are right for their businesses to meet compliance, while also better serving their employees and customers."
The selection process for the Top 10 List involved a distinguished panel comprising of CEOs, CIOs, VCs, and analysts including Healthcare Tech Outlook's editorial board. This group reviewed the top companies in the healthcare compliance space, and shortlisted the ones that are at the forefront of tackling industry challenges. Finally, the panel looked at the vendor's capability to fulfill the needs of buyers with effective solutions that can curb the challenges associated with healthcare compliance.
ITSourceTek provides data security and business optimization solutions centered on understanding what data is sensitive, creating data protection strategies with policies, and enforcing those policies via automation and technological advancements. It has compliance and data security solutions that range from Governance, Risk, & Compliance (GRC) to Finance & Accounting to Procurement to Operations. It helps organizations address a broad range of business challenges surrounding protection of data, including the need to meet regulatory requirements from HIPAA, SOX, PCI-DSS, and other challenges like using SaaS providers and moving to Hybrid and Cloud based systems.
"We at ITSourceTek are proud to be included in this prestigious list," said Brian Arellanes, Founder, CEO & Chairman of ITSourceTek, Inc. "ITSouceTek takes great pride in our ability to provide comprehensive, compliance driven solutions to the healthcare industry."
About ITSourceTek, Inc.
ITSourceTek is focused on technologies that solve critical needs and provide quick ROI. For the past decade, it has helped customers achieve success–an endeavor that has earned ITSourceTek many accolades for being a leader and trusted advisor. This company's teams have assisted industry leaders to tackle major business challenges, while also helping them realize the positive impact a diverse team and organization can make. For more info, visit: http://www.itsourcetek.com/
About Healthcare Tech Outlook
Published from Fremont, California, Healthcare Tech Outlook is a print magazine, which features CIOs, ITVPs, CTOs, and other decision makers sharing their insights and perspective on the healthcare industry. A panel of experts, technology leaders and board members of Healthcare Tech Outlook magazine has finalized the "10 Most Promising Healthcare Compliance Solution Providers 2016" and shortlisted the best vendors and consultants in the healthcare industry. For more info, visit: http://www.healthcaretechoutlook.com/