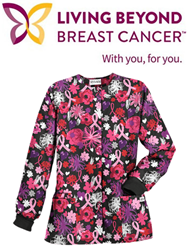 We all know someone who has been impacted or affected directly by Breast Cancer
Fort Lauderdale, FL (PRWEB) December 24, 2016
Uniform Advantage(UA), a leading retailer of scrubs and medical uniforms is in its second year partnering with Living Beyond Breast Cancer (LBBC) and has helped raise more than $14,500 in donations for the nonprofit organization.
UA has designed six items for LBBC: two different scrub prints, one scrub jacket, a tote bag, and surgical hat. In recognition of Breast Cancer Awareness, Uniform Advantage donates $1 from the sale of the designated pink print pieces to support LBBC and the fight against breast cancer.
Living Beyond Breast Cancer was founded in Philadelphia by a small group of women led by Dr. Marisa Weiss who were seeking information that would help them after completing treatment for breast cancer. At the time, the resources were inadequate and limited so LBBC was created as a space where women in similar situations could connect and help one another in a caring environment.
Living Beyond Breast Cancer's vision is to have a world where no one impacted by breast cancer feels uninformed or alone. To strive toward reaching this vision, LBBC's mission is to connect people with trusted breast cancer information and a community of support. LBBC addresses the current needs of people effected by breast cancer, whether they are newly diagnosed, in treatment, recovery or living with a history of or managing a metastatic form of the disease. Resources are developed in collaboration with the nation's leading oncologists, health professionals and ally organizations and are delivered by people who understand the physical and emotional complexities of breast cancer.
"This cause is extremely important because we all know someone who has been impacted or affected directly by this disease. We want to do as much as we can to raise awareness and help causes and organizations like Living Beyond Breast Cancer that truly make a difference," said UA's Marketing VP Lori Dunlap.
To learn more about the Living Beyond Breast Cancer organization visit the LBBC website. For more information on Uniform Advantage's action to help and support breast cancer awareness visit UA Gives Back.
About Uniform Advantage
Uniform Advantage has represented style, quality and, above all, customer satisfaction for more than 30 years. As the first division of UA Brands, the chain was launched with a single South Florida store in 1985. Today, the company operates 29 retail locations in key markets across the U.S.; e-commerce and print catalog divisions; plus designs and manufactures its own proprietary healthcare apparel lines. The company's corporate office is based in Fort Lauderdale, Florida with a distribution center near Atlanta, Georgia. Learn more at http://www.UniformAdvantage.com or by calling 800-283-8708.