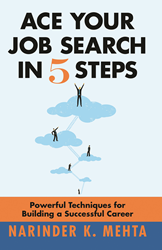 "This book is a must read for anyone interested in securing a good job and achieving long-term career success." — Professor Connie Wanberg, University of Minnesota
Dover, MA (PRWEB) December 29, 2016
Narinder Mehta's latest book "Ace Your Job Search in Five Steps" reveals a step-by-step pathway for finding a job that meets one's professional goals and personal needs. The book presents a framework to assess personal skills, put together resumes and cover letters, identify potential employers, prepare for job interviews, and evaluate job offers. It shows how to effectively use the Internet for job search.
The book is based on the author's personal experiences as a job hunter, as a hiring manager for large employers, and as a recruiter with an executive search firm. He shares many powerful techniques for building a successful career. Here are some testimonials:
"This easy-to-read book has many unusual tips from an executive recruiter that can help you discover your ideal job." — Dr. Doris Helge, Author of "Joy on the Job" and other Amazon bestsellers
"Scintillating, spectacular, wonderful!!!! I loved it. It was particularly timely for me since I am starting my own job search now." — Bob Kebartas
"I found this book more valuable than the two days I spent with a major outplacement firm. It provides one a better road map for finding the next career position." — Joe Barsi
Narinder Mehta was President of an executive search firm for ten years. Prior to that, he served as a Senior Vice President of Shearson/American Express, Capital Credit Corporation, and Outsourcing Solutions Inc. He was National Sales Director of the American Express Gold Card program and also Vice President of Sales for the American Express Corporate Card. He had the honor of serving as a National Vice President of the Muscular Dystrophy Association for two terms. For more information, please visit: http://www.linkedin.com/in/NarinderMehta.
He is the author of two previous books on job search and career development. He has spoken on goals accomplishment and personal development to audiences in many countries. He received Master of Arts degree in Industrial Relations from the University of Minnesota. He lives in Dover, Massachusetts, with his wife, Sampath Mehta.
The jobs often go to those candidates who know the most about the job search process. This book helps the readers to gain that knowledge. It is a how-to-do-it manual filled with practical ideas. Visit the website: http://www.AceYourJobSearch.com.
Ace Your Job Search in Five Steps: Powerful Techniques for Building a Successful Career is a paperback, 188-pages, list price $11.95, available at Amazon.com and other sales outlets. The book is also available as a Kindle eBook for $4.95.
Amazon.com has added the "Look Inside" feature for this book to provide links to different sections of the book including the Front Cover, Table of Contents, First Pages, Index, and the Back Cover. Also included is the capability to "Search Inside This Book" by entering a phrase in the search box. For the book's description, editorial reviews, and to look inside the book, please go to: http://www.amazon.com/dp/1530774551.
Contact:
Narinder K. Mehta
Mehta Consulting
Phone: 508-878-9627
Website: http://www.AceYourJobSearch.com