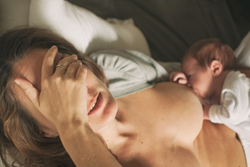 Breast and nipple pain are common in breastfeeding women, but can be effectively treated.
Amarillo, TX (PRWEB) December 30, 2016
Breast pain and sore nipples are common problems in the early weeks of breastfeeding, and these problems often cause mothers to stop breastfeeding earlier than they intended. Fortunately, if women receive competent care, their pain can be effectively treated. Dr. Carmela Baeza will present the latest findings to help clinicians correctly identify and treat the causes of breast and nipple pain in a webinar hosted by Praeclarus Press.
This webinar will focus on two types of pain: acute and chronic. Dr. Baeza will review the latest protocols for management of acute lactational mastitis. Clinicians will learn to recognize signs of acute mastitis in breastfeeding women and manage its symptoms using evidence-based protocols. Dr. Baeza will also provide guidance on when to refer mothers for medical treatment or when to culture their milk.
Chronic breast pain is less common than acute pain, but is also more challenging to identify causes and treat. Chronic breast pain is also very difficult for mothers and increases their risk of depression, so it is important to address. Participants will learn to do a detailed history and assessment of the mother´s pain, to rule out different causes, and to develop an effective treatment plan. Dr. Baeza will also describe various new approaches to chronic breast pain, and the evidence behind them, including using breast-milk cultures, antibiotics, and probiotics.
Carmela Baeza, MD, IBCLC is a medical doctor and International Board Certified Lactation Consultant, specializing in family medicine and in sexual therapy in Madrid, Spain. She works in a private Family Wellness Clinic, Raices, where she is in charge of the lactation program. She is the current president of the Spanish Lactation Consultant Association (AECCLM). Dr. Baeza is part of a workgroup for the study of chronic breast pain and mastitis.
Dr. Baeza is the author of Amar con los Brazos Abiertos (To Love with Open Arms), a parenting book. It has two parts, the first to make the science behind breastfeeding easy for parents to grasp, and the second to address everyday parenting emotional issues that parents can turn from barriers into assets for their family growth. She is married to Carlos and has five children.
The webinar will be held February 2, 1 p.m. EST. Registration is on the Praeclarus Press website.
Praeclarus Press is a small press specializing in women's health. Founded by health psychologist, Kathleen Kendall-Tackett, PhD, IBCLC, FAPA, the mission of Praeclarus Press is to produce books and other materials that change people's lives. Praeclarus Press is based in Amarillo, Texas.