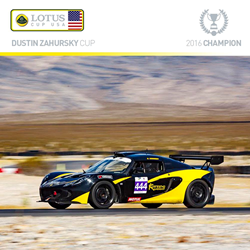 "If it were not for sauna suit training, I would not have endured this circuit and the uncomfortable conditions that racing can bring,"
Van Nuys, CA (PRWEB) December 29, 2016
Dustin Zahursky, the founder and CEO of Kutting Weight, LLC, manufacturers of neoprene-based fitness clothing, won the Lotus Cup USA Championship in 2016. The winding curves of this race circuit can take a toll on the body and the mind, but Zahursky credits some of his success to physical endurance training with Kutting Weight sauna suit clothing, a product that he developed to trap the body heat of the wearer during training, thereby increasing the core body temperature to acclimate the body when experiencing higher temperatures, such as inside of a race car.
The Lotus Cup USA is an ideal way for those who are interested in entering competitive racing. The series is designed for Lotus owners or enthusiasts of varying skill levels, but not for the faint of heart. This is a highly competitive racing series with all participants wanting to reach the checkered flag first. At each track location of the series, drivers compete to win and earn points to win the Lotus Cup USA Championship.
Despite the critics, race car driving is now considered an athletic sport, especially in California where temperatures can exceed over 120 degrees Fahrenheit inside the car. Drivers face incredible stresses on the track — rival drivers pouncing on their every mistake, rogue cars threatening to overtake their position within a matter of seconds — all while facing possible dehydration. NASCAR driver Kasey Kahne is one driver that prepares exclusively for these conditions. In an interview with The Wall Street Journal, the NASCAR veteran says he loses nearly 8 pounds of water weight during a race, so he trains to acclimates his mind and body to perform even under such duress. To put his body under the stress of being inside the car on race day, Kahne will exercise for 60 to 90 minutes in 70- to 90-degree heat.
Further evidence in a recent article in the Journal of Thermal Biology suggest, "the need for heat mitigation practices and provide evidence that motor sport should consider strategies to become heat acclimatized to better meet the thermoregulatory and cardiovascular challenges of motor sport competition."
"The Lotus Cup USA is a great circuit for those who want to enter the sport for the first time, but many of these drivers are not prepared for the hot conditions on the track and inside the cars," Zahursky said. "If it were not for sauna suit training, I would not have endured this circuit and the uncomfortable conditions that racing can bring," he added. "This just confirms my trust in this product and method as one of the most effective tools to help anyone achieve their fitness goals through heat acclimation training."
Heat acclimation training is traditionally pricey and inconvenient when using professional facilities. However, Kutting Weight's SweatTech neoprene technology has been proven in several studies to be a safe, inexpensive way to prepare the body to deal with environments that have elevated temperatures. Dr. Lance Dalleck, Assistant Professor of Exercise& Sport Science at Western Colorado State University, conducted a groundbreaking study, proving that the Kutting Weight sauna clothing can increase the body's threshold to handle environmental heat. His findings showed that after someone goes through elevated heat training with Kutting Weight sauna suit clothing, it results in a lower core body temperature during high heat activities, such as cardiovascular exercise.
Additionally, a research review conducted by Dr. Rhonda Patrick demonstrated that hypothermic conditioning, the same type of conditioning that is available using sauna suit clothing, can reduce or eliminate the negative side effects of heat exhaustion while performing activities in elevated temperatures. Dr. Patrick's findings further support the theory and prove that the body will experience improved thermoregulatory control during these conditions, allowing the body to cool itself more efficiently when exposed to a high heat environment.
Just as the Kutting Weight sauna suit clothing helped Dustin Zahursky prepare for the Lotus Cup USA circuit, it too can be advantageous to someone that wants to reach their physical fitness goals through heat acclimation. For the clothing to be effective users must wear it on a consistent basis during physical activity and drink plenty of water to replace lost the loss of fluids.
To learn more about the Lotus Cup USA, please visit http://www.lotuscup.us/.
To learn more about the research of Dr. Rhonda Patrick, read more at http://www.foundmyfitness.com/reports/sauna-report.pdf.
Founded by Dustin Zahursky, Kutting Weight is a fitness apparel company that specializes in the manufacturing and production of sauna suit clothing. Their SweatTech neoprene material is ideal for users who want to increase their body's tolerance of heat during elevating temperatures, causing the byproduct of heat acclimation and increased calorie burn rate. For more information and their stylish products for men and women, please visit http://www.kuttingweight.com.