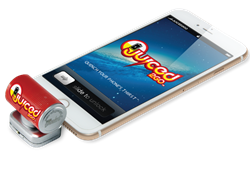 Los Angeles, CA (PRWEB) December 29, 2016
Smart phone users love capturing video of their favorite performer at a concert, taking selfies, or photographing their their day at an amusement park but they can easily be left out of communication when their phone runs out of juice. How often do cell phone users wish there was a way to have just a bit more charge in their phones to finish the day? Juiced2Go is excited to be launching the first portable, dual tip disposable phone battery at the 2017 Consumer Electronics Show to help "quench your phone's thirst."
Juiced2Go consists of two parts: a disposable battery that extends a mobile phone's life by up to four hours as well as a reusable, dual-tip compact adapter which works with both Apple and Android phones. When you're ready for an extra charge, connect the battery to your mobile phone through the adapter and switch it to "ON." After your charge is complete, save the adapter and recycle the battery at one of Juiced2Go's participating locations or any battery recycling drop-off. Juiced2Go is light weight, cordless and small enough to fit in your pocket or handbag while charging.
"The one thing that all cellphone users have in common is that at some point, almost every day, their phone will run out of power," says Juiced2Go co-founder, Ronny Mirel. "Based on the undeniable need for convenient emergency on-the-go power, Juiced2Go's battery solution is the answer to your charging needs. It's also the ideal option for families or couples that have Android and iOS phones so that they no longer need to carry multiple chargers."
To further extend the company's commitment to emergency preparedness, Juiced2Go is partnering with one of the nation's top manufacturers of first aid kits and emergency survival solutions. Total Resources International's "Be Smart Get Prepared" kits will soon feature Juiced2Go in emergency outdoor kits as well as musical festivals and theme parks kits.
Juiced2Go will also be offering an online membership program where members will receive a shipment of renewal batteries each month at a discounted price.
At CES, Juiced2Go's parent company, Up In The Lab, will also be previewing a few upcoming innovative products for 2017.
For more information on Juiced2Go or to "Quench Your Phone's Thirst," please visit: http://www.juiced2go.com. For press inquiries, or to schedule an interview and/or demo at CES, please contact: kelli(at)productivitypr(dot)com.