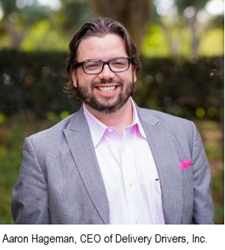 Irvine, California (PRWEB) December 29, 2016
Featured in the November 1, 2016 cover story of Fortune Magazine titled RED TAPE, Aaron Hagemen, the CEO of Delivery Drivers, Inc. (DDI) knows only too well about the high cost of regulations impacting small businesses. Hageman provides delivery drivers on a contract basis in 42 states whose ominous laws are inconsistent from state-to-state and eat up sizable resources to achieve compliance protecting the employer and employee alike.
To help others reduce the risk and cost of dealing with the miles of red tape, Aaron is doing something about it. He is offering an all-in-one human resources services package designed specifically for the Independent Contractor marketplace serving both the needs of the contractor and the company employing them.
The independent contractor (also called the self-employed or freelance) market is growing faster than GDP with up to 40% of the American workforce expected to be self-employed by 2020 according to Fast Company. While the freelancer method of employment offers real benefits, it also presents serious risks if the paperwork is mismanaged.
With help from DDI employees and employers can sleep better at night knowing all the legal and regulatory terms are being taking care of professionally. Working with DDI assures there is evidence to support the independent status of workers. Compliance is its most important function dictating the "why" and "how" of each program.
DDI trains staff on the do's and don'ts of working with independent contractors. They conduct 'Operations Consulting' in order to properly deal with issues like scheduling and "hiring/firing" independent contractors. DDI also provides bookkeeping and accounting review services to make sure the numbers match the business model. Plus DDI provides legal R&D working with some major Employment and Labor-Law firms.
According to the National Federation of Independent Business, 45% of business owners consider regulations a very serious business problem today. That is up from 17% in 2001. Aaron Hageman is here to help minimize this burden and build stronger relationships between employers and independent contractors.
###