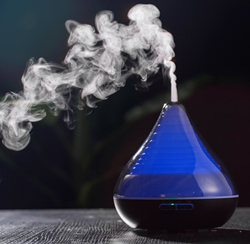 Diffusers are easy to use, and add a strong wellness element to the home or office, says Kathy Heshelow, author of "Essential Oils Have Super Powers" and founder of Sublime Naturals.
St. Petersburg, FL (PRWEB) December 30, 2016
A new essential oil diffuser has just been added at Sublime Naturals, and is now available. It is an ultrasonic, cool mist diffuser with an auto-stop feature if the water runs low.
It features a modern design, black base and stunning LED lights: choose one of the colors or let the series of lights alternate automatically. Settings include 1, 3 and 5 hours or continuous run.
"Diffusers help purify the air - they kill bacteria and viruses," says Kathy Heshelow, founder of Sublime Beauty and author of "Essential Oils Have Super Powers."
In addition, says Heshelow, a wide array of essential oils can be chosen, depending on the need and mood. Lavender at night helps encourage sleep; Frankincense helps with tranquility (a favorite during yoga or meditation); Zen Immune Boost supports the immune system; Eucalyptus can help with respiratory issues. Sublime offers more than 30 essential oils and is adding more each month.
"ZEN BOX is our subscription box of essential oils", says Heshelow. "We are committed to educating on HOW to use essential oils, WHICH do WHAT, and offer a number of bonuses with the subscription box. It launches January 1st as a bi-monthly box on Sublime Naturals, following a year of monthly offerings."
Diffusers and essential oils improve wellness and daily life, says Heshelow. The new diffuser is also available on Amazon.