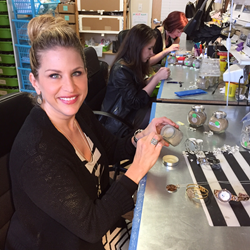 Dune Jewelry is innovating the jewelry industry with their keepsake products, said Robert Nelson, SBA Massachusetts District Director.
Boston, MA. (PRWEB) May 03, 2016
The Small Business Administration (SBA) has named Holly Daniels Christensen, Founder & CEO of Dune Jewelry Inc. the 2016 Woman-Owned Business of the Year for Massachusetts and New England.
"Dune Jewelry is innovating the jewelry industry with their keepsake products," said Robert Nelson, SBA Massachusetts District Director. "Holly has built a business with enormous growth potential. Since launching in 2010, Dune has grown their retail base from 3 boutiques to over 600 diverse retail partners around the world. In 2015 alone, the company exceeded financial goals by doubling its 7-figure revenue from the previous year."
Dune Jewelry, the Original Beach Sand Jewelry Company ® uses sand from thousands of locations around the world to create handmade bracelets, cuff links, necklaces, earrings and more. Using their unique and patented manufacturing process, they turn memories into custom jewelry, capturing their customers favorite travel moments.
Born at her kitchen table in 2007, Dune Jewelry has evolved from a sole proprietor - to creating over 25 jobs that employ Sand Artists, jewelry-makers, packagers, marketing and sales associates. The Manufacturing and Sales office is located in Hyde Park where they rent 2,000 square feet in a converted mill building. Holly and her team have come a long way from the days when she used to sit at her kitchen table making the jewelry, crafting personal letters to the recipients and hand-writing the shipping labels.
Holly was nominated by her SCORE Boston mentor, Rick Blank, who has been mentoring Dune for over 3 years and has helped position Dune Jewelry for another record-breaking year of growth.
"With Rick's operational, management and sales guidance, we have focused the business on not only selling jewelry but selling memories. We have been issued 3 US Patents for our unique manufacturing process." said Christensen, "We've also been able to create jobs for so many talented Bostonians along with capturing memories for thousands of people who collect and wear Dune Jewelry every day."
After working in the Boston real estate market for many years, Holly was determined to reach for her dreams and officially launched Dune Jewelry in September of 2010. Since the age of 15, Holly had been living independently. She spent her summers after high school learning to surf in Wellfleet, MA and spending spontaneous days waking up and heading to Marconi beach. Her story is similar to many of the narratives highlighted by the theme of small business week: "dream big, start small." Holly began making sand jewelry for friends and family and it became apparent to her that people had a strong emotional attachment to their favorite beaches.
The Woman-Owned Small Business of the Year award is presented annually for developing a growing business; with three years' evidence of success in sales, profits, increased jobs, innovative product, and demonstrated potential.
Holly Daniels Christensen will be honored at the Annual SBA Massachusetts Small Business Week Awards Luncheon at the Westborough Doubletree on May 6th, 2016.
About SBA National Small Business Week:
Every year since 1963, the President of the United States has issued a proclamation announcing National Small Business Week, which recognizes the critical contributions of America's entrepreneurs and small business owners. More than half of Americans either own or work for a small business, and they create about two out of every three new jobs in the U.S. each year. As part of National Small Business Week, the U.S. Small Business Administration takes the opportunity to highlight the impact of outstanding entrepreneurs, small business owners, and others from all 50 states and U.S. territories. Every day, they're working to grow small business, create 21st century jobs, drive innovation, and increase America's global competitiveness.
About Dune Jewelry Inc.:
Dune Jewelry, located at 1 Westinghouse Plaza in Hyde Park Massachusetts uses sand from your favorite beach, trail, ballpark, golf course & more to create a unique line of collectible jewelry that captures your favorite travel memories. Handmade with love & sandy hands in the USA™.
For more information on Dune Jewelry Inc., please visit: http://www.dunejewelry.com
Follow Dune Jewelry on Twitter: @dunejewelry
Follow on Instagram: DuneJewelry
Like Dune Jewelry on Facebook: http://www.facebook.com/dunejewelry
About Score Boston:
Score Boston provides free mentoring and start up assistance to Small Businesses.
The organization has over 50 counselors working out of its Boston headquarters and satellite locations assisting Companies with new product innovation, sales, marketing and finance.
For more information on Score Boston., please visit http://www.boston.score.org