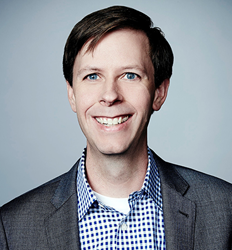 "I am ecstatic to be given the opportunity to join the ClickDimensions team, which in just a few short years has built a great business through its attention to building a superior product and a loyal customer base." - Adam Jones
Atlanta, GA (PRWEB) February 13, 2016
On the heels of being named the second fastest growing private software company in Georgia and #227 on the 2015 Inc. 500 list, ClickDimensions is pleased to announce that Adam Jones has joined the organization in the role of chief operating officer. Jones, who started with ClickDimensions as interim chief financial officer in late 2015 will also continue those responsibilities for the organization.
Adam comes to ClickDimensions from AcuityCFO where he served as a fractional CFO. Prior to AcuityCFO, Adam spent over 13 years in various operational finance roles with CNN, Delta Air Lines, and The Weather Channel.  Notably, he served for over ten years with CNN, where he most recently served as senior director for CNN Digital, one of the largest news and information websites. At CNN, Adam led a variety of performance measurement and profitability initiatives, including unprecedented growth at CNN's market-leading mobile business. Adam started his career with Arthur Andersen's audit practice, where he focused on public software and manufacturing companies.  He received his Master's of Business Administration (MBA) from Emory's Goizueta Business School, and his undergraduate and Master's of Accounting (MAC) degrees from the University of North Carolina at Chapel Hill.
"I am ecstatic to be given the opportunity to join the ClickDimensions team, which in just a few short years has built a great business through its attention to building a superior product and a loyal customer base," said Adam Jones. "I look forward to contributing to continued growth and profitability in this exciting field."
"ClickDimensions is the very rare profitable marketing automation company. We have achieved profitability and efficiency through operational excellence and an unwavering focus on our target markets," commented ClickDimensions' Chief Executive Officer John Gravely. "Adam will allow us to comfortably scale as our operational and financial demands grow with our revenue and EBITDA. I look forward to working closely with Adam to ensure that our customers, partners and employees continue to experience a ClickDimensions that operates at the highest levels of quality and efficiency."
Kim McEwen, who previously held the role of chief operating officer while simultaneously managing the largest component of ClickDimensions revenue, will now focus exclusively on the account management team she created. "For the past five years, Kim has managed all finance, accounting, human resources functions and numerous operational projects while also building an account management and renewals team that has lead ClickDimensions to an over 96% net retention rate," said Gravely. "Kim has done an amazing job in all areas, and we are excited to have her manage our most important asset: the customers who have allowed us to build such a great team and company."
About ClickDimensions
The ClickDimensions marketing automation solution for Microsoft Dynamics CRM embeds email marketing, web intelligence, nurture campaign automation, lead scoring, campaign tracking, web forms/surveys, social discovery, and event management tools into Dynamics CRM. ClickDimensions enables organizations to discover who is interested in their products, quantify their level of interest, and take the appropriate actions. For more information, visit http://www.clickdimensions.com, follow @ClickDimensions on Twitter, or email press(at)clickdimensions(dot)com.