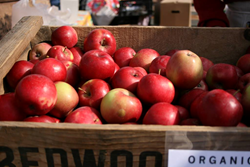 Apples, Corn Mazes, Hard Cider - Fun for the entire Family
Shenandoah Valley, Virginia (PRWEB) September 14, 2016
The Virginia Kids Trail new fall Bucket Buddy Adventure Game has an emphasis on wellness and creativity centered around apples, Virginia farms and our town festivals. Here are Bucket's top picks!
Kids Trail Farm Experiences:
Hartland Farm, in Markham, VA, is a family-owned farm that fulfills the family's motto, "Where families harvest food, fun and memories." This farm just off of Interstate 66 is focused on offering an incredible variety of activities for kids to enjoy that one can't find at other farms. Beginning the weekend of September 10th and continuing every weekend throughout October 30th, Hartland Farm will host "Fall Festival Weekends." For just $10 per person, families are invited to come watch the pig races, bounce around on the jumping pillow, maneuver through the corn maze, take a trip down the mountain tube slide, and experience all of the other activities as well. The hours are 10:00 am to 6:00 pm on Saturdays, and 12:00 pm to 6:00 pm on Sundays.
Additionally, Shenandoah University students will be performing the play, "You're A Good Man, Charlie Brown" on October 16th." Cheryl Green, owner of Hartland Farm, says, "The students put on the play right here on the farm. They walk around singing and entertaining… it's a fun time!"
In the region of Harrisonburg, VA is Back Home On the Farm, which is owned and operated by Gary and Lynne Hess. On Friday, September 23rd, the farm hosts "Seniors' Night Out", which welcomes senior citizens to enjoy an evening of fall festivities at the farm. This includes hearing the story of The Great Pumpkin, taking a hayride to the pumpkin patch, and making s'mores around the campfire. It is $7 per person. "This is our first time doing Seniors' Night Out, and we wanted to devote some time to our seniors so they can come out and enjoy the farm," said Lynne Hess.
And starting on Saturday, September 24th, every Saturday through October 29th is "Family Night." Activities include story telling, hayrides, pumpkin picking, and a corn maze. "Family night on Saturday nights is new as well, and we're excited to take the hayride around the farm to find the Great Pumpkin. We really tried to make it a fun family affair," Hess added.
U Pick Farms:
This time of year is perfect for picking fresh apples, and there are several options in the region that are great for doing so.
U-pick farms are a great experience for the whole family, because they are interactive, fun and educational all at the same time. Mackintosh Fruit Farm is a u-pick farm in Berryville, VA. Lori Mackintosh, who owns it alongside husband Bill, said that, "We want people to appreciate farmers, and to understand all the hard work that goes into farming fresh food. With the pick your own operation, the kids can learn about the farming process and how to pick the apples at just the right time." Listed on Mackintosh's website are the details of the harvesting times for different kinds of apples. Honeycrisp and Golden Delicious are two options that are harvested in September. This time of year is also the best time for baking; so don't forget to incorporate those apples into some warm, delectable desserts, like pies and cobblers.
Featuring a u-pick apple orchard, Great Country Farms in Bluemont, VA, is another spot for fall activities and family fun. Apple picking continues throughout September, and Great Country Farm's Apple Gala and Cider Festivals are each weekend of this month (September 3rd-25th). With events such as apple wine tasting, hard cider tastings, and fresh cider making demonstrations, the whole family can have an awesome time. The farm also offers a corn maze and a Lucky Duck Giant Pumpkin Drop. Admission on weekends is $10 for children and $12 for adults.
Put on by the Rotary Club of Winchester, the Apple Harvest Festival is coming up on September 17th and 18th. It is held at the Frederick County Fairgrounds, and will feature vendors and artisans. There will also be live music including The Judy Chops, The Wayfarers, Mike Hoffman, and more. Darla McCrary said, "It is fun for the whole family, including the pets! We are having a beer and cider tasting for the over 21 crowd. There will be bingo, an apple pie eating contest, a kid's zone with inflatables, and apple pie baking contest, and more!" Throx Market is the sponsor of the Tap and Cork area. Throx offers the largest selection of craft beer here in Winchester, Virginia. Home to Go Blue Ridge Travel's Kids Trail visitor center, Throx is considered a "best kept secret" by YELP reviewers for its out of the box foodie experience. The Apple Harvest Festival is Saturday and Sunday from 10:00 am until 5:00 pm. The Tap & Cork area opens at noon.
Remember, fall fun doesn't have to wait until October's leaf foliage change. The Valley has plenty of farms offering endless activities and entertainment that people of all ages can enjoy.
About GoBlueRidgeTravel.com
Launched in December 2011, Go Blue Ridge Travel (GoBRT) is a travel planning guide centered around six experiences in Virginia's northern Shenandoah Valley. In 2014, the Kids Trail was launched to promote multi-generational family travel and has received three grants from Virginia Tourism. In 2016, TasteofBlueRidge.com, a foodie escape experience for all ages went live supporting local resourcing in the valley.
Founded and owned by Nancy Craun who grew up in the area and has 30 years of experience in the event planning, restaurant, hotel, and marketing arenas. GoBRT's mission is to cover 160 plus mile radius of the Interstate 81 Corridor spanning the states of Virginia, West Virginia, and Maryland.