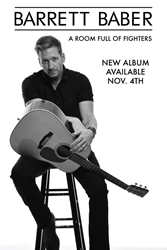 "I've been making music for a long time and I've never worked harder or been more proud of a record. I really believe this album is a top to bottom gem that can hold its weight against any record out there. Great songs, great melodies, great production.
Nashville, TN (PRWEB) November 06, 2016
BARRETT BABER RELEASES FULL LENGTH ALBUM LESS THAN ONE YEAR AFTER HIS 3RD PLACE FINISH ON THE VOICE.
The Voice Season 9 Finalist Barrett Baber takes the next step in his musical journey and brings along other favorites from past seasons.
Barrett Baber told his fans that he would deliver new music in 2016, and he has kept his promise. Baber's new album "A Room Full of Fighters" debuted at #93 on the iTunes country chart on Friday, November 4, 2016. It is also available via his website (http://www.BarrettBaber.com).
Just one year ago, America was getting familiar with the soulful voice and genuine personality of high school teacher Barrett Baber. After Baber climbed the Billboard Chart week after week and finished 3rd on the show, he set his sights on Nashville. Baber signed to William Morris Endeavor and began touring the country, including several dates opening for the award-winning country group Rascal Flatts. Baber began writing immediately and has delivered an album filled with the country soul his fans have come to love.
Baber has shared his successes with several favorites from the show. Baber and Cassadee Pope (Winner of The Voice Seaon 3) headlined The Bentonville Festival in May along with Darius Rucker. He went to his "Voice family" when he started writing the new album. His album features songs co-written by Dustin Christensen (also a contestant on The Voice Season 9), a song from The Voice Season 2 2nd runner-up Tony Lucca and several other Nashville based songwriters. If you ask him about the importance of the show and the connections he's made, you will know that he thinks of them as his extended family:
The Voice influence is really strong on the album.  Dustin Christiansen is a writer on two of the tracks.  He and I are best friends and met while doing The Voice Season 9.  Tony Lucca is a writer on one of the big ballads on the project called "Pretty Things." Adam Wakefield played keys and organ on several of the tracks before he auditioned and placed second on Season 10.  I think that goes to show the deep and wide talent pool that the Voice taps in to each year.  I'm really proud to have those guys on the project and think that it says a lot about the kind of show The Voice is.  It really is an amazing asset that brings great musicians together both during the filming of the show but also long after the artists leave and go out into the music world.  It really is a Voice family.  
Baber released the album independently with the support of Coca-Cola. Coca-Cola chose Baber to have a lyric featured on bottles nationwide in 2016 as part of their "Share a Coke and a Song" campaign. Baber was a top influencer for the campaign reaching over 600k people via social media. This partnership will continue in 2017 with a national tour.
"A Room Full of Fighters" is available now.
https://itunes.apple.com/us/album/a-room-full-of-fighters/id1168669162
###
For press inquiries, please contact Amanda Scarlett.
AmandaScarlettPR(at)gmail.com
615-878-8650