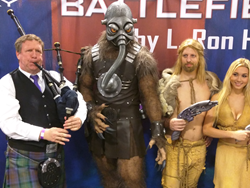 Atlanta, GA (PRWEB) September 05, 2016
The 21st century edition of Battlefield Earth: A Saga of the Year 3000 by L. Ron Hubbard came to life at Dragon Con 2016 with Terl, the evil alien security chief over Earth, along with Jonnie Goodboy Tyler and Chrissie, the story's heroes, making a very special guest appearance at the annual Dragon Con parade and the Galaxy Press booth in the exhibit hall.
Tens of thousands of Dragon Con guests attending the Dragon Con parade were excited to see Terl, the alien security chief for Earth making his Atlanta debut, as he was cheered on in the parade. Terl was being escorted by his captors—and the novel's heroes—Jonnie Goodboy Tyler and Chrissie, as a bag piper played music celebrating the alien's capture.
Following the parade, the entourage visited the Galaxy Press booth, which rapidly packed out with fans wanting their photos taken with the characters. And as a result, sales of Battlefield Earth have been record setting for any event to date.
Battlefield Earth was written by L. Ron Hubbard in 1980 in celebration of 50 years as a professional writer. It rose to the top of national bestseller lists, 8 times on the NYT, and went on to recognition in 2000 as #3 of the top 100 favorite fiction novels of the 20th century in the Modern Library Reader's Poll. It was re-released earlier this summer as both a trade paperback and unabridged multi-cast audiobook (47 hours with 67 actors performing 198 roles). And with its extreme popularity as one of the all time favorite science fiction novels, it hit the #1 spot in America in three separate categories as announced by Publishers Weekly: science fiction, paperback and audiobook.
At the Dragon Con, Chrissie was performed by actress Cheyanna Lavon Zubas (Guardians of the Galaxy Vol. 2). Terl was performed by Nate Andrade (Goosebumps - Monster).
For more information on Battlefield Earth, go to http://www.BattlefieldEarth.com