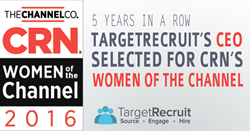 Our goal is to provide our customers with the best platform on the market so they can successfully run their business while supporting their clients.
(PRWEB) May 19, 2016
TargetRecruit, a complete end-to-end cloud platform of talent management applications to streamline hiring and leverage analytics for optimal business operations, announced today that CRN®, a brand of The Channel Company, has named Reena Gupta, Founder and CEO of TargetRecruit––and its parent company Avankia––to its prestigious 2016 Women of the Channel list. Avankia assists clients in exploring best practices and ways to solve organization's' unique challenges by leveraging their expertise in CRM and Technology Consulting for SaaS and Web applications. The women executives who comprise this annual list span the IT channel, representing vendors, distributors, solution providers and other organizations that figure prominently in the channel ecosystem. Each is recognized for her outstanding leadership, vision, and unique role in driving channel growth and innovation.
CRN editors select the Women of the Channel honorees on the basis of their professional accomplishments, demonstrated expertise and ongoing dedication to the IT channel. This year, CRN honored 472 Women of the Channel whose expertise and vision are deserving of this recognition.
"These executives have made a lasting mark on our industry—growing and elevating partner programs, leading transitions to new business models and introducing cutting-edge go-to-market strategies, among other remarkable achievements." said Robert Faletra, CEO, The Channel Company. "We congratulate all the 2016 Women of the Channel and celebrate their singular contributions to the advancement of the channel ecosystem."
Mrs. Gupta founded TargetRecruit in 2008 as an Applicant Tracking System, which was the first recruiting platform available on Salesforce.com's AppExchange marketplace. Reena's vision was to expand the platform into an ecosystem of apps that would enable companies to run every aspect of their business in the cloud––which is where TargetRecruit stands today. Through her own unique approach, Reena is actively involved in every aspect of the company and her clients so her vision remains transparent throughout.
Her goal is to stay focused on customer success by providing customers with the best technology platform on the market, which aids to their own business success as well as their clients. "Our goal is to provide our customers with the best platform on the market so they can successfully run their business while supporting their clients. With today's technical advances, we have the right tools in place to make analytical, quick decisions," stated Reena Gupta, Founder and CEO, TargetRecruit and Avankia. "I'm honored to be recognized amongst a talented and proactive group of diverse women within the partner and technology channel who share a common focus in the industry.
Reena Gupta personally drives the philanthropic efforts that touch different economies around the world, including areas in which TargetRecruit and Avankia provide services in, and those in need of supplies, education or financial support, and also devotes her time to various groups of women in schools and business. Her latest focus is on the Mompreneur community, where she volunteers her personal time to guide and support women who would like help to move forward, or get started, in their career while being a mother.
Mrs. Gupta holds a master of computer applications from LN Mishra Institute in her native town, Patna, India. She was recognized by Women of Distinction magazine as a distinguished executive in her field in 2016, CRN Women of the Channel honoree from 2011-16, CRN Power 50 Solution Provider 2014-15, Inc. 500, Named One of the 50 Fastest Growing Companies in Tennessee for Avankia, and was named to Top Executives of Tennessee.
The 2016 Women of the Channel list will be featured in the June issue of CRN Magazine and online at http://www.CRN.com/wotc2016.
About TargetRecruit & Avankia
Since its inception in 2008, TargetRecruit is the global leader in providing one end-to-end cloud solution that is completely mobile and fully integrated to partner with companies to streamline their operations and hiring. Built on the Force.com platform, TargetRecruit is the most highly recommended application on Salesforce's marketplace, AppExchange, that provides a foundation of real-time business metrics, flexibility, mobility and ease of customization to the TargetRecruit ecosystem. As a result, firms have the ability to make proactive, data-driven decisions and run their entire business from one platform. The company is headquartered in Nashville, Tennessee, with global centers in Los Angeles, California.; Silicon Valley, California.; Bangalore, India; and Minsk, Belarus.
Avankia is a consulting company specializing in CRM solutions development, technology consulting for SasS and cloud-based applications. It provides products and services which guide its clients to adopt best practices and ways to solve their organization's unique challenges. Avankia's apps are built on the Salesforce.com platform-which include: TargetRecruit, a cloud-based Talent Management and human capital solution for companies to manage their entire business and workforce; DBSync, which is a leading provider of data replication and application integration for CRM's, Accounting Packages and Databases; and Accounting Book, which allows customers to store, manage, track, analyze and report financial data in the cloud.
For more information, visit http://www.targetrecruit.net and http://www.avankia.com.
About the Channel Company
The Channel Company enables breakthrough IT channel performance with our dominant media, engaging events, expert consulting and education, and innovative marketing services and platforms. As the channel catalyst, we connect and empower technology suppliers, solution providers and end users. Backed by more than 30 years of unequaled channel experience, we draw from our deep knowledge to envision innovative new solutions for ever-evolving challenges in the technology marketplace. http://www.thechannelco.com
CRN is a registered trademark of The Channel Company, LLC. The Channel Company logo is a trademark of The Channel Company, LLC (registration pending). All rights reserved.