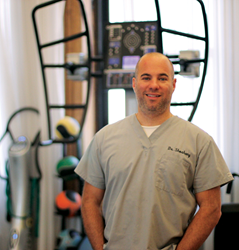 You have to figure out what the patient's lifestyle goals are and whether a standard approach will work for them. For instance, If they're going to be very active, like most of my patients are, its just going to frustrate the patient.
New York, NY (PRWEB) May 18, 2016
One of the top ranked NYC chiropractors, Dr. Steven Shoshany recently attended a special Cox Technic (Technique) centered seminar in Fort Wayne, Indiana. Dr. Shoshany wrapped up the seminar at the end of April and feels that it will further expand ability to treat patients suffering from various forms of back lumbar and cervical back pain. The Cox technique greatly increases the ability of the specialists at Dr. Shoshany's Manhattan practice to address mechanical injuries and issues involving the spine. Dr. Steven Shoshany has been practicing for over 15 years and is also a pioneer of spinal decompression, and a certified chiropractic extremities practitioner. He is one of a few advanced chiropractic practitioners that doesn't rely solely on adjustments of the spine, but also incorporates an array of tools, selecting which tool best suits the patient and the malady.
He is well versed in treating painful conditions whether they stem from acute trauma or postural issues. Dr. Shoshany is a also a lauded Kinesiotaping practitioner, and one of the early pioneers that helped popularize the now popular technique. At his downtown practice, he works alongside medical doctors, physical therapists, as well as massage therapists, forming a long established multidisciplinary, integrated practice. On the subject of integrated pain treatment, Dr. Shoshany says: "The problem with a lot of treatments is that a lot of doctors will just use a standard model for treatment, and really only go about relieving the pain. That, simply put, does little in the long run. You have to figure out what the patient's lifestyle goals are and whether a standard approach will work for them. For instance, If they're going to be very active, like most of my patients are, its just going to frustrate the patient. You have to have many tools available so you can work with patients to figure out what will work best for them. Individualized medicine that incorporates chiropractic, physical therapy, and massage get us long term results and happy patients who can get back to living their lives to the fullest."
According to the Cox Technic website, the Cox protocol is a "non-surgical, doctor-controlled, hands-on spinal manipulation performed with the patient lying on The Cox Table, our proprietary, specially designed chiropractic instrument. This table permits the effective administration of flexion-distraction and decompression adjustment and manipulation." The recent seminar the Dr. Shoshany attended took the focus beyond chiropractic adjustments the spine, and on to treating pain using methods that provide long term results and relief. Dr. Shoshany can add the methods taught at this seminar to his already vast modalities for treating the root cause of pain for injuries, even those that go beyond the spine. For years Dr. Shoshany was one of the few NY chiropractors who could ensure that he was able to treat every aspect of his patient's musculoskeletal issues. At his NYC practice diagnostic techniques such as ultrasound, and X-ray also help ensure that all the available techniques are administered in targeted and direct manner.
Dr. Shoshany has also been working with high level competitive athletes for a few years and helping them deal with chronic pain and injury, especially involving some commonly injured areas like the lower back and shoulders. Misalignment, muscular imbalances, overuse, and improper training methods, as well as acute trauma to in one area can "radiate" pain in other parts, and any deviations made from proper form to get around pain can further distribute changes in the alignment of the corresponding muscular and skeletal tissue. This can lead to what Dr. shoshany calls, "a "Pandora's Box" of problems, where one injury leads to another, which compounds and leads to systemic dysfunction and compensations. So what you end up having is a person thats chronically hurt and in and out of doctor's offices. This can be avoided by finding the root cause, and determining a specific course of treatment, and its going to cost less money and lead to a faster, long term solution."
Dr. Shoshany regularly attends seminars as an integral part of keeping himself and his practice at the cutting edge of integrated treatment. He has long been the proponent of non-surgical spinal decompression, and feels that the Cox technique is just as powerful. He also adds that it adds to the practice's protocols in dealing with really difficult to treat cases that would normally have been surgical cases or patients this have had surgery and still suffering.
For more information on Dr. Shoshany, his use of the Cox treatment for treating lumbar and cervical pain, or to make an appointment visit http://www.drshoshany.com, or call 212 645 8151.