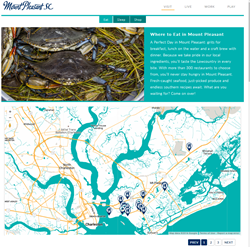 "We are proud to showcase our local hotels, restaurants and attractions while welcoming diverse industries to the area with the hands-on business support synonymous with Mount Pleasant." Mount Pleasant Mayor Linda Page
MOUNT PLEASANT, SC (PRWEB) November 04, 2016
Committed to business development and tourism, the Town of Mount Pleasant recently launched ExperienceMountPleasant.com, a brand-new website for businesses, visitors and residents alike.
Specifically created to display Mount Pleasant's unique Lowcountry lifestyle and dynamic business community, the website highlights how distinct it is to Visit, Live, Work and Play in Mount Pleasant. Whether you are contemplating starting or expanding a company in the town, or simply visiting for leisure, ExperienceMountPleasant.com will easily answer all your questions.
"The Charleston area has more than five million visitors each year," says Mount Pleasant Mayor Linda Page. "We are proud to showcase our local hotels, restaurants and attractions while welcoming diverse industries to the area with the hands-on business support synonymous with Mount Pleasant."
The simple, modern design of the website exhibits the coastal heritage and economic opportunities of the Town in four segments.

Readily accessible from all mobile devices, ExperienceMountPleasant.com boasts creative and current content featuring beautiful visuals of the Mount Pleasant area paired with an exhaustive list of business resources. The Town partnered with Mount Pleasant-based digital marketing firm Levelwing to create the new website experience, who also partnered with Mount Pleasant-based software development firm Qonceptual to help gain efficiencies on the backend of the build. The website was officially launched at DIG SOUTH's Dig Mashup event held at the Charleston Harbor Resort on November 3, 2016.