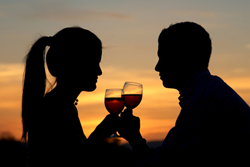 "We pride ourselves in crafting unique, custom-made trips for every traveler. What better way to plan an event as special as a honeymoon or anniversary, than specifically tailored to the happy couple's traveling dreams." CEO, Juergen Keller.
(PRWEB) November 23, 2016
Let romance blossom on a spectacular, fully-customizable South America journey dedicated to celebrating love, excellent for a honeymoon or anniversary celebration. Create the perfect romantic getaway or a whirlwind tour, free of stress, with the expert help of SouthAmerica.travel's custom travel planners. Combine Patagonian lodges with an Amazon cruise, Brazilian beaches with Incan remains or sub tropical waterfalls with a lesson in Tango. SouthAmerica.travel is excited to offer new Honeymoon & Anniversary Tours perfect for celebrating love.
Buenos Aires
Start in the "Paris of the South," Buenos Aires, a city of passion, Tango and fine wine. Embrace each other's company over a warm cup of coffee, at a European-inspired sidewalk cafe. Enjoy world-renowned Malbec wine with an exquisite dinner. Afterwards, take a nighttime stroll, as the sun starts to set, reflecting warm shades of amber off the panes of the surrounding buildings. The city lights of the night, will make any couple glow.
Machu Picchu
For the couple interested in history and UNESCO World Heritage Sites, visit one of the New 7 Wonders of the World, Machu Picchu. It is hard to compete with the mysterious and breathtaking Incan citadel. Spend a cozy night in the quaint town of Aguas Calientes and rise early to see the sun ascend over the mighty Machu Picchu. A trip here is unforgettable, creating memories that will last a lifetime.
Cartagena
Plan a romantic getaway to one of Colombia's most enchanting towns, Cartagena. The colonial architecture, warm Caribbean air, cobblestone streets, vibrant atmosphere and charming balconies, craft an ideal intimate setting. Glide together as one, in an amorous salsa lesson, or take a whimsical horse-drawn carriage ride at twilight.
Rio de Janeiro
Rio de Janeiro, nicknamed the "Marvelous City", is a metropolitan paradise anchored between granite mountains and blue waters. Cruise along Guanabara Bay, where the sunset reflects over the soft waves. It's difficult to choose another destination over Rio, where tropical beaches, warm weather and lush green landscapes create a dream getaway. Relax and rejuvenate at the Copacabana Palace, one of the world's most celebrated hotels, and indulge in the luxurious services offered, such as a calming couple's massage. Continue to the secluded island of Ilha Grande, for some sweet time alone. Disconnect from the hustle of the city, and fall more in love while laying on a deserted beach with picturesque scenery.
Mendoza
Mendoza, in the heart of Argentina's wine country, is ideal for connoisseur and amateur aficionados alike. The towering Andes Mountains creates a barrier to the Pacific moisture, delivering 330 days of sun and perfect conditions for growing wine - and a fair weather stay. Check in to a 4-star or 5-star wine lodge in the Mendoza region and sip exquisite Malbec wines in front of a crackling fire. Saddle up for a horseback ride around the beautiful vineyards, go whitewater rafting or opt for a scenic hike offering breathtaking views of the Andes. Captivated by the city's relaxing atmosphere, Mendoza will rekindle any flame.
With over 15-years of experience, SouthAmerica.travel prides itself in partnering with the best 4- and 5-star hotels and crafting unique tailor-made holidays to design the trip a lifetime. Accomplished local guides, private excursions, superior accommodations and flexibility in travel planning make for an extraordinary travel experience - sure to spawn memories that will last a lifetime. To get started, visit http://www.SouthAmerica.travel.
--------
Go big and book a romantic Honeymoon or Anniversary trip to South America. Take a look at some of the sample itineraries at SouthAmerica.travel and begin planning the perfect getaway to celebrate love.
About Us: SouthAmerica.travel is a tour operator specialized in custom South America tour planning for travelers worldwide from its offices in Seattle, Lima, Buenos Aires, Rio de Janeiro and Stuttgart, Germany, online and with local phone numbers in 88 countries. Offering 4- & 5-star South America tours to Brazil, Peru, Argentina, Colombia, Ecuador, Bolivia, Chile, Paraguay and Uruguay. Licensed and bonded in the U.S., SouthAmerica.travel has been sharing its love of South America travel since 1999 and is proud of its A+ rating by the Better Business Bureau and ASTA affiliation. SouthAmerica.travel - Our name is our passion™