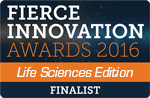 WASHINGTON, DC (PRWEB) December 14, 2016
FierceMarkets, publisher of FierceBiotech and FiercePharma, today announced the finalists in the Inaugural Fierce Innovation Awards: Life Sciences Edition. Finalists were recognized within 5 distinct categories of innovation.
Finalists were chosen by a distinguished panel of judges from Medidata, PPD, PwC, Amgen and more. A complete list of judges can be found on the website.
Winners will be announced during a live awards webcast on Wednesday, December 21, 2016, at 2 p.m. ET. Register to attend here.
All applications were evaluated based on the following criteria: effectiveness, technical innovation, competitive advantage, financial impact and true innovation. Finalists were selected based on a calculation of the judges' scores in each area. This year's finalists include:
Biotech Innovation Category Finalists
Bicycle Therapeutics for Bicycles and Bicycle Drug Conjugates
Humacyte for HUMACYL®
Innovative Biochips for Automated Yeast Aging Analysis System
Mitra Biotech, Inc. for CANscript
Recursion Pharmaceuticals for Computationally intelligent phenotypic screening platform
Data Analytics/ Business Intelligence Category Finalists
Clarivate Analytics for Drug Research Advisor – Target Druggability
Covance for Xcellerate Trial Design
LexisNexis for LexisNexis Systems of Care for Life Sciences
Strategic Research Insights (SRI) for Innovative Big Data Analytics
The Michael J. Fox Foundation for PPMI Data Challenge
Digital Health Solution Category Finalists
Adherium for Smartinhaler
Bayer AG + Facebook for Scrolling Important Safety Information (ISI) Solution
ContextMedia for The Digital Exam Room Wallboard, Infusion Room Tablet and Patient Mobile Connect
HealthUp Sp. Z o.o for MySpiroo
MedEvoke for [OPEN] Scientific Platform Alignment System
Drug Delivery Technology Category Finalists
Anutra Medical for Anutra Local Anesthetic Delivery System
Bicycle Therapeutics for Bicycles and Bicycle Drug Conjugates
Mercator MedSystems, Inc. for The Bullfrog® Micro-Infusion Device
Portal Instruments for PRIME Drug Delivery System
Titan Pharmaceuticals for ProNeura™
Technology Innovation Category Finalists
10x Genomics for 10x Genomics ChromiumTM System
Cianna Medical for SAVI SCOUT
Fulholdpharma Plc for New Antimicrobial Platform Technology
InCrowd for InCrowd MicroTracker
Medimetrics Personalized Drug Delivery B.V. for IntelliCap® System
About FierceMarkets
FierceMarkets, a division of Questex, LLC, is a leader in B2B e-media, providing information and marketing services in the telecommunications, life sciences, healthcare, IT, energy, government, finance, and retail industries through its portfolio of email newsletters, websites, webinars and live events. Every business day, FierceMarkets' wide array of digital publications reaches more than 2 million executives in more than 100 countries.
Current publications include: Telecom: FierceWireless; FierceCable; FierceDeveloper; FierceOnlineVideo; FierceTelecom; FierceWirelessTech; FierceWireless:Europe /TelecomsEMEA, FierceInstaller; an Telecom Asia; Healthcare: FierceEMR; FierceHealthcare; FierceHealthFinance; FierceHealthIT; FierceHealthPayer; FierceHealthPayerAntiFraud; FierceMobileHealthcare; FiercePracticeManagement and Hospital Impact; Life Sciences: FierceBiotech; FierceBiotechIT; FierceBiotech Research; FierceCRO; FierceDiagnostics, FierceDrugDelivery; FierceMedicalDevices; FiercePharma; FiercePharmaAsia; FiercePharmaMarketing; FiercePharmaManufacturing; FierceVaccines and FierceAnimalHealth Enterprise IT: FierceBigData; FierceCIO; FierceContentManagement; FierceDevOps; FierceEnterpriseCommunications; FierceITSecurity and FierceMobileIT; Finance: FierceCFO; and FierceFinanceIT; Government: FierceGovernment; FierceGovernmentIT; FierceHomelandSecurity; FierceMobileGovernment; FierceCities and FierceGovHealthIT Marketing & Retail: FierceCMO; FierceTechExec.