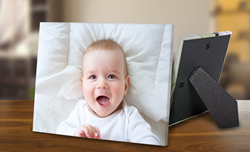 Innovative creative products and exciting promotions are driving our business forward. We are anticipating another great year in 2017. -- Fred H. Lerner, CEO and co-founder, MailPix
Huntington Beach, CA (PRWEB) December 06, 2016
MailPix, the photo-printing, canvas and gifting site, reported Nov. 28, Cyber Monday 2016, was the biggest single-sales day in the company's four-year history. The results echo media reports Cyber Monday online sales set records. Adobe, for example, estimates sales hit $3.39 billion, a 10-percent increase over last year.
Driving the 42-percent sales increase for MailPix were sales of canvas products, photo cards and photobooks. To maintain sales momentum, MailPix is continually refreshing its product offerings, like the addition of outdoor canvas earlier this year.
"The sales trends at MailPix continue to be strong," says Fred H. Lerner, CEO and co-founder, MailPix. "Innovative creative products and exciting promotions are driving our business forward. We are anticipating another great year in 2017."
ABOUT MAILPIX.COM
MailPix.com is the pre-eminent site for printing photos instantly at thousands of retailers from phone app or PC and also offers convenient mail-to-home. MailPix preserves photo memories as photo books, canvas, prints, cards, enlargements and other photo gift products. The service is seamlessly integrated to print photos from any phone, device or computer. MailPix offices are located in Huntington Beach, Calif.
Fred H. Lerner is the founder and CEO of MailPix, his latest startup. He previously founded Ritz Interactive, which included RitzCamera.com, WolfCamera.com and others.  Fred also founded two imaging companies which were acquired by Kodak and became the CEO of Kodak Processing Labs. He is a United Nations' Hall of Fame recipient from the International Photographic Council and Past President of the Photo Marketing Association International. 
Peter Tahmin, co-founder and COO of MailPix, was the former vice president at Ritz Camera & Image and co-founder, senior vice president and COO of the Ritz Interactive e-commerce network, which included RitzCamera.com, WolfCamera.com, BoatersWorld.com and others. He brings more than 20 years of e-commerce experience and a lifetime of imaging industry experience to MailPix.