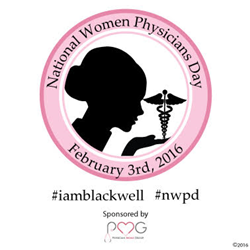 Ultimately, we are working toward the same goals – to help bring wellness to our respective communities for the greater good. And we want to celebrate that as women physicians.
Rancho Cucamonga, CA (PRWEB) February 01, 2016
Non-Profit organization, Physician Moms Group (PMG), will declare February 3rd National Women Physicians Day in an effort to bring awareness and appreciation to women in the field of medicine.
Founder and CEO of the Physician Moms Group (PMG), Dr. Hala Sabry D.O., M.B.A., as well as her membership of over 48,000 physician mothers, will support the observance in alignment with Dr. Elizabeth Blackwell's birthday, who was the first woman to graduate from medical school in the United States from the Geneva Medical College in upstate New York in 1849.
On February 3rd, members will post photos of themselves on social media using the hashtags: #IAMBLACKWELL and #NWPD as well as change their Facebook profile pictures using an app overlay in observance of the day.
The significance of Dr. Blackwell's contributions to the field is the main driver for the campaign. After graduating, Dr. Blackwell opened her own medical school for women, started her own private practice, and served as a public health activist throughout her lifetime.
Dr. Blackwell initiated the movement that helped women gain entry and equality in the field of medicine. As part of her ongoing activism, Dr. Blackwell is quoted saying, "If society will not admit of a woman's free development, then society must be remodeled."
Neurosurgeon Dr. Lola Blackwell Chambless, M.D. is a member of Physician Moms Group (PMG) and also a direct descendant of Dr. Elizabeth Blackwell.
"When I was younger, my father always told me about her and encouraged me to become a doctor or scientist," said Dr. Chambless. "The bottom line is that women are neither better nor worse physicians than men. We are a diverse group that brings a lot to the table. So I'm so excited to have a day where women physicians can celebrate their contributions."
Founder of Physician Moms Group, Dr. Hala Sabry, D.O., M.B.A looks forward to bringing awareness through this observed day.
"It's important, as a community, to recognize professions in public services, including all healthcare professionals, teachers, and law enforcement alike, as each of these roles contribute to society's successful function," said Dr. Sabry.
Of the physicians currently practicing in the United States, 32 percent are women, according to the 2014 Census of Actively Licensed Physicians in the United States. The observance day also looks to unify all members in the medical field, celebrate those women physicians who make significant contributions every day, and recognize how far the field has come since the 19th century when Dr. Blackwell first entered medicine.
"We have to remember that every member of the healthcare team is crucial to patient care. It is important to support the physicians that lead those teams and acknowledge their role coordinating the collective medical knowledge to benefit our patients. Ultimately, we are working toward the same goals – to help bring wellness to our respective communities for the greater good," said Dr Sabry. "And we want to celebrate that as women physicians."
Doctor of Interventional Cardiology and Physician Moms Group (PMG) member, Dr. Kim Skelding, F.A.C.C., F.A.H.A., F.S.C.A.I. said, "For the most part, women in the medical field focus on their practice, blend in, and try not to make waves. It's wonderful to have a day to celebrate our differences and the unique things that women bring to the field."
With the campaign launching February 3rd, further hopes are that young women feel motivated to become physicians and will not be discouraged by the work-life balance perceptions.
"The initiative that Dr. Sabry is leading with Physician Moms Group (PMG) is one that honestly couldn't have been done 20 or 30 years ago," continued Dr. Skelding. "It's exciting to see these young women be proud of the fact that they are multitasking with families and their career as well as celebrating their successes. It says a lot for the field."
For more information about PMG, its membership, and upcoming events, visit http://www.mypmg.com.
About Physician Moms Group (PMG)
PMG was founded in 2014 as a social, professional, and educational resource for a community of physicians who are also mothers.
The mission of PMG is to provide a platform for connecting like-minded individuals where they can share their medical expertise, seek and provide peer support, collaborate professionally, and build a collective voice to advocate for positive change in healthcare.
In just over a year, the PMG network has grown to more than 48,000 physicians of all medical specialties. Membership spans the globe and is composed of certified physicians who graduated from medical school (M.D./D.O./M.B.B.S.).
The Founder and CEO of PMG, Dr. Hala Sabry, earned her degree from the New York College of Osteopathic Medicine in 2007. She is also the mother to three children who have been her motivation for finding a good work-life balance and her inspiration for the creation of PMG.