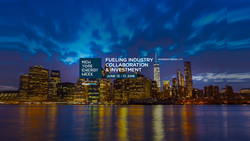 "The fourth annual New York Energy Week will focus on how new policies, technologies and people are transforming the energy system as we know it," said Angelique Mercurio, founder and CEO of EnerKnol
New York, NY (PRWEB) March 23, 2016
EnerKnol, Inc. today announced that the fourth annual New York Energy Week will take place June 13-17, 2016, with five days of events focusing on key challenges faced by the energy industry as it seeks to build a smarter, cleaner and more resilient energy system.
Having helped the energy industry collaborate on solutions to these challenges since 2013, this year's New York Energy Week will consider:
-New pathways for solar financing
-Women who are disrupting the energy industry
-Energy supply for buildings
-The future of demand-side management
-Development of the next generation electric utility
This year's New York Energy Week top sponsors and hosts include Con Edison, PA Consulting Group, DLA Piper, National Grid, GE Energy Financial Services, Deloitte, Stroock, and CME Group, among others.
"The fourth annual New York Energy Week will focus on how new policies, technologies and people are transforming the energy system as we know it," said Angelique Mercurio, founder and CEO of EnerKnol. "If the past is any guide, event participants will secure new ideas and build new relationships that allow them to accelerate the development of a more intelligent, more dependable and lower carbon energy system."
"We are delighted to be bringing together the most influential energy thought leaders at New York Energy Week to explore the role of the next generation utility in ushering in a new, vibrant and dynamic energy future," said Peter Siggins, Americas regional head for PA Consulting Group. "Much has been learned from the regulatory and market reforms which have occurred over the past few years that can inform our understanding of how utilities can help facilitate the shift to an energy future that provides opportunities to all stakeholders. PA Consulting Group is pleased to have the opportunity to help bring this important discussion to the forefront of the industry."
Click to Tweet: New York Energy Week 2016 to Explore the Transformation of the Energy Industry
Four Years of Breaking Down Industry Barriers
New York Energy Week helps break down barriers across the historically siloed sectors of the energy industry to catalyze the advancement of the energy industry. Unlike traditional business conferences, New York Energy Week's distributed hosting model enables industry's leaders to facilitate conversations on the key challenges and opportunities faced by the energy sector with other market participants, government agencies, research firms and other members of the energy community.
Harnessing New York City's role as the hub of global commerce and finance, as well as New York state's prominent position as a driver of energy policy innovation with its Reforming the Energy Vision (REV) initiative, New York Energy Week's previous years have attracted thought leaders from major energy industry stakeholders including the US Department of Energy, Tesla, UK Trade & Investment, New York Green Bank, Google and OPower, to name a few.
For more information on speaking, hosting and sponsorship opportunities at New York Energy Week 2016, visit http://nyenergyweek.com
Follow New York Energy Week on Twitter: @NYEnergyWeek and #NYEW
About New York Energy Week:
EnerKnol created New York Energy Week in 2013 as the first cross-sector collaboration to break down silos, driving forward investment and innovation across the energy industry.
About EnerKnol:
EnerKnol, Inc. headquartered in New York City, provides real-time data and analytics on comprehensive energy regulatory for financial decision support.