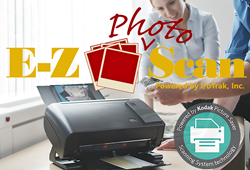 "Simply bring your prints and slides to digitize them for free. It's fast, easy and fun" -- Rick Lippert, president, E-Z Photo Scan
Altamonte Springs, FL (PRWEB) January 28, 2016
E-Z Photo Scan, the leading marketer of desktop photo-scanning systems, announced RootsTech attendees can have their prints and slides scanned for free during the event, Feb. 3-6, 2016, in Salt Lake City. In 2015, E-Z Photo Scan booth attendees scanned 98,561 prints at RootsTech, and this year, a goal of 100,000 scans has been set.
To participate, RootsTech attendees can bring their photo prints, scrapbook pages and slides to expo booth 1109 during exhibit hours Thursday-Saturday. To make image storage easy and simple, E-Z Photo Scan will use the latest technology to make photos available to attendees after the event. These treasured digital memories can be stored on FamilySearch and other genealogy sites. Also, on Saturday, E-Z Photo Scan is part of the interactive activities of Family Discovery Day.
"To reach our 100,000 free scan goal, we're bringing our full array of photo scanning equipment, including the Kodak Picture Saver scanner, SlideSnap Lite and Shotbox," says Richard "Rick" Lippert, president, E-Z Photo Scan. "Simply bring your prints and slides to digitize them for free. It's fast, easy and fun."
For information about attending RootsTech, visit http://www.rootstech.org
ABOUT E-Z PHOTO SCAN
Founded in 1995, E-Z Photo Scan has worked with many community centers, historical societies, museums, and individuals to help them organize and preserve their photos and documents. Their team has long recognized the need for photo organization and management service providers, having seen individuals who find digitizing photographic archives to be a daunting, expensive and time-consuming task. The company was awarded Kodak Picture Saver Scanning Systems Global Value-Added Re-Seller Leader of the Year.
ABOUT ROOTSTECH
RootsTech is a global family history event, where people of all ages learn to discover, share, and celebrate their family connections across generations through technology. At RootsTech, there is something for everyone, no matter your experience in family history or your skill level in technology. RootsTech will be held on Feb. 3-6, 2016, at the Salt Palace Convention Center in Salt Lake City, Utah. Innovator Summit will be held on Feb. 3, 2016, also at the Salt Palace.