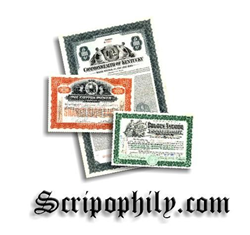 Collecting Stock and Bond Certificates is a Fantastic Hobby!
Fairfax, Va (PRWEB) November 07, 2016
Scripophily.com is Now Offering Historic Stock Certificates from both AT&T and Time Warner in recognition of AT&T's $85 billion to acquire Time Warner. The Original Stock Certificates offered include one of the earliest known AT&T certificates from the New England Telephone & Telegraph Company signed by Theodore Vail (First President of AT&T) in 1883 as well as the last paper stock certificate issued by AT&T with Michael Armstrong as Chairman. In addition, we are offering stock certificates from Warner Communications Inc. with Steven J. Ross as Chairman of the Board, Time Warner Inc. Atari Corporation, AOL Time Warner, Warner Bros. Pictures, Inc. issued in 1929, America Online, Incorporated (AOL) with Steve Case as Chairman and many other related company certificates.
Time Warner and AT&T have an amazing history of owning and operating great companies including AT&T Wireless Services, Inc., McCaw Cellular, Regional Bell Operating Companies, Warner Communications Inc. , Time Warner Inc., Atari Corporation, AOL Time Warner, Warner Bros. Pictures, Inc., Time, Incorporated, Time Warner Telecom, Inc, America Online, Incorporated , Malibu Grand Prix Corporation, Turner Broadcasting System, Inc., AOL Latin America, Orion Pictures Corporation, Connecticut Telephone Company (SNET), Bell Atlantic Corporation, New York and Pennsylvania Telephone & Telegraph Company and many others.
Scripophily (scrip-ah-fil-ly) is the name of the hobby of collecting old stock and bond certificates. Certificate values range from a few dollars to more than $500,000 for the most unique and rare items. Tens of thousands of Scripophily buyers worldwide include casual collectors, corporate archives, business executives, museums and serious collectors. Due to the computer age, more and more stock and bonds are issued electronically which means fewer paper certificates are being issued. As a result, demand for paper certificates is increasing while supply is decreasing.
Scripophily.com - The Gift of History is the Internet's leading buyer and seller of collectible stock and bond certificates and have items on loan for display in the Smithsonian's Museum of Financial History in New York. Our company has been featured on CNBC, USA Today, Associated Press, Reuters, Nightline, Today Show, Baltimore Sun, and Washington Post and in many other media publications. The company also offers the World's #1 old stock research service at OldCompany.com and offers high resolution scans for publications. Scripophily.com has over 17,500 selections on its website.
Scripophily.com / Old Company Research Service, founding member of the Old Stock Exchange, is the successor company to all material published by the Marvyn Scudders Manuals, the Robert D. Fisher Manuals, R.M. Smythe Stock Research Service, and the Herzog & Co., Inc. obsolete research services. These services have been performed continuously for over 136 years since 1880.
Scripophily.com and Old Company Research Services was founded by Bob Kerstein (Bob.com). Bob is a CPA and CGMA, and has more than 39 years of senior management experience in the Cellular, Cable TV, Satellite, Internet, Professional Sports and Entertainment Industries. Bob is also the President of the Professional Scripophily Traders Association (PSTA) and co founder of the American Stock and Bond Collectors Association.
For more information on Scripophily.com®, visit http://www.scripophily.com, http://www.oldcompany.com, http://www.scripophily.net, http://www.rambo.com, http://www.bob.com or call 1-703-787-3552.