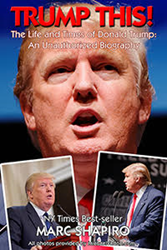 The reality is that Trump, outside of the tight knit business community, was a well kept secret to the man and woman on the street until The Apprentice went on the air
New York, NY (PRWEB) November 29, 2016
Who is Donald Trump? In an effort to give readers the chance to discover what kind of president Donald Trump might be, Riverdale Avenue Books, the award-winning hybrid publishing company, will offer free e-books of their new unauthorized bio on President-elect Donald Trump written by New York Times best-selling entertainment journalist Marc Shapiro. Trump This! The Life And Times of Donald Trump: An Unauthorized Biography will be available as a free digital download from now through Inauguration Day on January 20th, 2017.
Trump This! The Life And Times of Donald Trump: An Unauthorized Biography digs deep into the truth that is Donald Trump looking into his family, childhood and early years in New York City, all of which made him the man he is today. All of this is interlaced with the tale of the rise and fall of and rise of his New York real estate empire.
"There have been many books written by and about Donald Trump, but no one has looked at him through the pop culture prism. As a native New Yorker, Donald Trump has been an almost daily part of the city's landscape. Now the whole country gets to really see this larger than life New Yorker. I think this makes Trump This! a unique biography," said Publisher Lori Perkins.
Even with the barrage of media in the race for President of the United States, and the many seasons of The Apprentice, Donald Trump's back-story has been largely untold.
"The reality is that Trump, outside of the tight knit business community, was a well kept secret to the man and woman on the street until The Apprentice went on the air," said Author Marc Shapiro. "For those people, this book will definitely fill in the blanks."
The original book was published in February 2016 and has been updated to include Trump winning the election.
Downloads of this book will be available on Amazon, Barnes & Nobles Nook, iTunes, Kobo and wherever e-books are downloaded.
About the Author
New York Times bestselling author Marc Shapiro has written more than 60 nonfiction celebrity biographies, more than two dozen comic books, numerous short stories, poetry, and three short form screenplays. His young adult book JK Rowling: The Wizard Behind Harry Potter was on The New York Times bestseller list for four straight weeks. His fact-based book Total Titanic was also on The Los Angeles Times bestseller list for four weeks. He has recently written books about Lorde, Jenni Rivera, EL James, Justin Bieber, and Norman Reedus.
About Riverdale Avenue Books
Riverdale Avenue Books is an award winning, innovative hybrid publisher at the leading edge of the changes in the publishing industry. We publish e-books, print, and audio books under 10 imprints: Desire, an erotica/erotic romance imprint; Riverdale/Magnus the award-winning imprint of LGBT titles; Pop featuring pop culture titles; Afraid, a horror line; SFF, a science fiction fantasy line; Truth, an erotic memoir line; Dagger, a mystery thriller imprint; Sports and Gaming featuring sports and gaming titles; and VerVe featuring lifestyle titles. Started in 2012 by industry veteran Lori Perkins, Riverdale is a full service publisher, with a foreign rights and film agency department. Visit us at http://www.RiverdaleAveBooks.com.