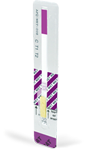 The 3 minute test is the fastest in the industry, which is an important factor when receiving corn at a facility.
Lawrence, MA (PRWEB) September 01, 2016
Charm Sciences, Inc. is pleased to announce its ROSA® WET®-S3 Aflatoxin Quantitative Test (AFQ-WETS3) has been approved by the United States Department of Agriculture's Grain Inspection, Packers & Stockyards Administration (GIPSA) for official testing of aflatoxin in the U.S. national grain inspection system. An official Certificate of Conformance from USDA/GIPSA (Certificate No. FGIS 2016-089) declares that the test kit meets the accuracy specifications for 5 to 300 ppb aflatoxin in corn.
The Charm ROSA AFQ-WETS3 test is an immunoreceptor assay test utilizing ROSA (Rapid One-Step Assay) lateral flow technology and Water Extraction Technology (WET) that eliminates the use of organic solvents in the extraction of aflatoxin from corn. It delivers rapid, economical, accurate detection for aflatoxin in a convenient single strip. The test is simple to perform and yields results in 3 minutes on the ROSA-M Reader or Charm EZ-M system.
"The ROSA AFQ-WETS3 Quantitative Test has been manufactured to reduce the assay time and meet the GIPSA specifications required to quantitate aflatoxin in the field." says Mark Tess, Ph.D., Mycotoxin Product Manager. "The 3 minute test is the fastest in the industry, which is an important factor when receiving corn at a facility."
The AFQ-WETS3 test joins a growing family of GIPSA approved tests for aflatoxin, DON, fumonisin, ochratoxin, and zearalenone. AFQ-WETS3 kits are available in 20, 100, and 500 tests.
About Charm Sciences, Inc.
Charm Sciences is a world leader provider of food safety, water quality and environmental diagnostics. Charm's diagnostics portfolio includes test kits and systems for antibiotics, mycotoxins, pesticides, alkaline phosphatase, pathogens, end product microbial assessment, allergen control, water quality and ATP hygiene. Directly and through its network of distributors, Charm products serve the food, beverage, water, pharmaceutical, medical, personal care, environmental, and industrial markets in more than 100 countries. Customers rely on Charm products for excellence in quality, innovation and customer support.