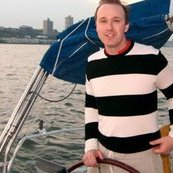 I enjoy comedy because it serves as a contrast to the day to day management of a brokerage firm.
New York, NY (PRWEB) June 24, 2016
Gregory Hold took home third place in the Funniest in Finance Comedy Contest on June 14, 2016. The contest took place at the Gotham Comedy Club in Manhattan, New York. Contestants performed in front of a sold out crowd of over 300 people.
The competition was preceded by two nights of semifinal competitions where contestants were eliminated. Financial services professionals with a comedy hobby performed in the live comedy show. The top place of night was taken home by Feraz Shere. Fenelol Guillaume took home second place. Greg Hold finished in third place, and Michelle Cohen finished one spot behind in fourth.
During the day, Gregory Hold oversees the operations of his electronic trading company, Hold Brothers Capital. Hold Brothers, and its affiliates, provide capital, software, market access, and risk management to approximately 700 professional traders worldwide. Greg has run the business since 1994; "I enjoy comedy because it serves as a contrast to the day to day management of a brokerage firm. It was exciting to compete in the comedy contest at Gotham this past Tuesday in front of a packed house. The crowd was lively and created a charged atmosphere for the performers."
About Hold Brothers
Hold Brothers Capital is a leader in providing equities traders with the tools and information they need to execute trades quickly, effectively and efficiently, in any market environment. Since 1994, Hold Brothers has been committed to developing flexible and cutting-edge technology designed to meet the changing demands of the global trading industry. For more information, please visit http://www.hold.com.
*Hold Brothers is the marketing name for Hold Brothers Capital, LLC, (a registered broker-dealer and a CBOE member) and its affiliates. All securities activities and transactions are handled through Hold Brothers Capital LLC.