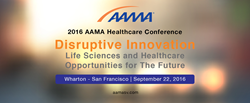 The AAMA has a tremendously positive impact on individuals and organizations in Silicon Valley and in Asia through our conferences and networking events.
San Francisco, CA (PRWEB) September 15, 2016
Silicon Valley healthcare stakeholders will meet at the 2nd annual Asia America MultiTechnology Association (AAMA) healthcare conference on September 22 at the Wharton San Francisco Campus in San Francisco. Bringing together an ecosystem of experts from life sciences, healthcare and digital technology, the conference will highlight trends expected to impact the industry, share insights on strategies, and look ahead to opportunities for growth, investment and innovation.
Dr. Eunsung Park, Vice President of Samsung Strategy and Innovation Center, will deliver the keynote. The conference will feature innovation speakers from over 20 companies, public and private, delivering panel discussions to investors, entrepreneurs and innovators. Panel speakers include Ralph Gonzalez, Chief Innovation Officer of UCSF Health, Walter Steward, VP and Chief R&D Officer of Sutter Health, Mehrdad Rezaee, Chief Medical Officer of BaseHealth, Ron Gutman, CEO of HealthTap, and Manish Kothari, President of SRI Ventures.
Taking the lead from healthcare innovators like HealthTap, BaseHealth, Castlight and others, the conference's structure will focus on four compelling discussion panels:
1. Disruptive Trends: How Regulation, Costs, Digital Health, Mobility and Sensors Are Changing Healthcare
2. Innovations and Changes Brought On by Molecular Data/Life Sciences
3. Global Investor opportunities with experts from Kenson Ventures, Decheng Capital and True Ventures
4. Revolution for Healthcare from the Providers Perspective
Investors, entrepreneurs and digital healthcare innovators seeking new growth and networking opportunities can register for the AAMA conference online.
Through its diverse programs ranging from Corporate Venture Capital Roundtables to Speakers Series to annual Silicon Valley-Asia Technology Conferences, AAMA provides a forum in which members can network, exchange ideas and share resources. Further information about AAMA is available at http://www.aamasv.com.
About Asia America MultiTechnology Association
Founded in 1979, Asia America MultiTechnology Association (AAMA), is the largest pan-Asian technology association in the world. A nexus of leading executives and other stakeholders, AAMA accelerates the cross-fertilization of ideas and best-of-breed collaboration, resulting in successful business ventures throughout the Asia-Pacific region and global economy.
With a network of 10,000+ from over 2,000 companies and chapters throughout Asia, AAMA's roster represents a diverse and influential spectrum of technology industries, including AR/VR, robotics, internet, wireless, telecommunications, multimedia, gaming, semiconductor, software, hardware, electronics and biotech, genomics, life sciences as well as leading financial and professional services experts integral to high-tech development.