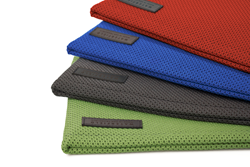 We wanted to offer our customers something completely new to pair with Apple's long-awaited, refreshed MacBook Pros.
San Francisco, CA (PRWEB) October 13, 2016
Ahead of Apple's MacBook Pro refresh, WaterField Designs announces the new Maxwell MacBook Pro sleeve, available for pre-order at an early bird price until the October 27 event. The custom-fitted Maxwell laptop sleeve sports four vibrantly-colored textiles with a water- and stain-repellant Nano-Tex® finish, waxed canvas or ballistic nylon; shock-absorbing neoprene padding; a contrasting full-grain leather accent for easy grasping; and a smooth magnetic closure. The handsome and protective sleeve is available in vertical or horizontal orientation; an optional strap converts the sleeve into a minimalist stand-alone carry. WaterField Designs has been designing and manufacturing custom laptop sleeves, bags, and cases for digital gear in its San Francisco studio since 1998 and has developed custom-fitted sleeve for every Apple laptop since the Titanium Powerbook in 2001.
"We wanted to offer our customers something completely new to pair with Apple's long-awaited, refreshed MacBook Pros," explained company owner, Gary Waterfield. "With the Maxwell, we're offering bold new colors — something our customers have been requesting, a new secure and silent magnetic closure, and water-repellent materials. We're also offering 'early bird' pricing on preorders to help us get the initial surge of sleeves out to our customers faster."
The Maxwell laptop sleeve epitomizes WaterField's modern approach to design with its clean lines and streamlined look. Locally-manufactured LUNA® textiles on the case's exterior combine with an acrylic backing, a layer of ballistic nylon, and shock-absorbing neoprene internal padding. These boldly-colored textiles — in Kelly green, Crimson red, Cobalt blue or Slate black — are treated with patented Nano-Tex® coating for extreme water- and stain-resistance. WaterField also offers a rugged black ballistic or tan waxed canvas exterior with similar internal padding. A side-to-side magnetic closure opens smoothly and silently for easy access, and a swath of premium, full-grain leather at the bottom of the Maxwell Sleeve serves as an easy-grip area for removing the laptop. An optional shoulder strap converts the Maxwell into a minimalist laptop shoulder bag.
The Maxwell joins the WaterField SleeveCase, Dash Sleeve and Suede Jacket as part of WaterField's Apple laptop sleeve lineup.
Availability & Pricing
The Maxwell Laptop Sleeve
Early Bird Pricing through October 27: Ballistic nylon: $79. Waxed Canvas: $89. LUNA® colors: $99. Optional strap: $22. (MSRP: Prices go up $20 each on October 28.)
Color options and materials:
LUNA® textile with Nano-Tex® water- and stain-resistant coating in Kelly, Cardinal, Cobalt, Slate. Black ballistic nylon. Tan waxed canvas.
Black, full-grain leather swath at the bottom for easy gripping and a side-to-side magnetic closure. (Tan waxed canvas Maxwell comes with grizzly brown leather instead of black.)
Dimensions and weight: 16 x 12~12.5 x 5.25 inches. 3.2 lbs.
WaterField Designs ships worldwide from its online store. The Maxwell Sleeve is available now for preorder at the early bird price and will ship mid-November.
About WaterField Designs
WaterField Designs is an innovative San Francisco designer and manufacturer of bags and cases for tech-savvy consumers who want to stylishly and responsibly transport their technology. WaterField manufactures custom-fitted, high-quality cases and bags for a full-range of laptop computers, smartphones, tablets, gaming devices and other digital gear. All products are manufactured to exacting standards entirely in San Francisco. More information at "Our Story."