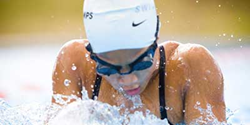 The increased interest by international parents for sport and language programs, particularly swim programs, has been growing every year.
San Rafael, CA (PRWEB) March 14, 2016
US Sports Camps' new Nike Swim and ELS camp programs will take place from July 17 through July 30, 2016, directed by Gadi Shamah who is ranked in the top 15% of swim coaches nationally.
At each camp location, swimmers receive concentrated instruction on all four strokes along with starts and turns. Upon arrival, campers are placed in groups with other swimmers that have similar abilities and goals. Nike Swim camp staff does their best to accommodate swimmer needs, taking into consideration their experience and desire to improve.
The camp is located at the prestigious San Domenico School, (San Anselmo, CA,) one of the oldest independent schools in California. Swimmers have access to a beautiful 515 acre campus complete with on-campus dormitories, state-of-the-art academic facilities, a music conservatory, riding stables, swimming pool, gymnasium, soccer and baseball fields, an organic garden, and six tennis courts. San Anselmo is located in Marin County, eight kilometers from Central San Rafael and 26 kilometers north of downtown San Francisco. From Marin County, the beautiful Napa and Sonoma counties as well as the Northern California coastline and beaches are within a 45-minute drive.
Swimmers can choose from a 4-day swim only program, or a one, or two-week ELS and Nike Swim Camp program. Each session combines 5 hours of daily individualized stroke instruction, including starts and turn instruction as well as dry land training exercises designed to improve their strength and overall performance in the pool. The ELS classes are held each morning from 8-10 AM. Each evening campers will get together and enjoy fun on-campus games, and off-campus excursions where they will enjoy local shopping and sporting events. Swimmers participating in the one or two week programs, will enjoy free swim and private stroke instruction and training on Thursday followed by off-campus excursions to an amusement park, outlet-shopping or the beach on Friday and Saturday. This is a special program combining exceptional swim instruction with the opportunity to learn and practice English skills, and enjoy the camaraderie of other American campers during their stay.
"The increased interest by international parents for sport and language programs, particularly swim programs, has been growing every year," says Colleen Bertiglia, Director of International Camp Programs for Nike Sports Camps. "We are delighted to offer our first Nike Swim and ELS program at San Domenico. Our expansion into Swimming is a direct result of parents wanting their kids to improve their competitive swimming skills but to also enhance their social and English skills. The benefit of combining an excellent swim program with a world class language program is an important differentiator versus other language study programs and offers something unique to the campers."
In addition to Nike Swim Camps, US Sports Camps offers Nike Tennis, Nike Basketball and Nike Soccer Camp Programs at San Domenico School. Participants can choose a sport only option or add ELS language to any of these programs. Players, Coaches, Parents and others interested in the 2016 Nike Sport and Language Camps can visit http://www.ussportscamps.com/international/nike/ or call 1-800-NIKE-CAMP
About US Sports Camps, Inc.
US Sports Camps (USSC), headquartered in San Rafael, California, is America's largest sports camp network and the licensed operator of Nike Sports Camps. Over 72,000 kids attended a US Sports Camp program in 2014. The company has offered summer camps since 1975 with the same mission that defines it today: to shape a lifelong enjoyment of athletics through high quality sports education and skill enhancement. In 2012, USSC partnered with ELS Language Centers to offer high-quality language and Nike Sports Camp programs to international students.