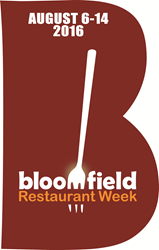 Explore some of the finest local eateries at one of New Jersey's best dining destinations.
(PRWEB) July 22, 2016
As Bloomfield prepares to celebrate the Fifth Annual Bloomfield Restaurant Week, it seems appropriate that the modern gift to celebrate the fifth anniversary is silverware.
Taking place from Saturday, Aug. 6 through Sunday, Aug. 14, the event will showcase a blend of old favorites and new "must-try" eateries in one of New Jersey's best dining destinations.
More than 25 of Bloomfield's finest restaurants will offer lunch and/or dinner prix fixe menus costing $30 or less, not including drinks, tax and tips.
"It has been amazing to witness the transformation of our town with the addition of new housing and retail over the past few years," said Anthony Lauro of Anthony's Cheesecakes and a member of the Bloomfield Restaurant Week Committee. "Restaurant Week is the best opportunity for new and longtime residents to explore all the culinary wonders of our hometown. There's truly something for everyone."
Extensive promotions for Bloomfield Restaurant Week will reach local residents as well as the neighboring communities of Montclair, Nutley, Glen Ridge, Belleville, Clifton, West Orange and beyond.
Comcast Spotlight is a major sponsor and promoter of the event; watch for commercials beginning in July on Food Network and other local cable channels.
Additional Information including participating restaurant menus and specials for Bloomfield Restaurant Week is available at http://www.BloomfieldRestaurantWeek.com
There is a chance to Win a $100 Gift Card to the participating restaurant of your choice - get the complete details on the Bloomfield Restaurant Week Facebook page.
Stay connected on Twitter @BloomfieldNJRW and Instagram @BRWeek2016
***Once again there will be a Drop & Dine service, which is designed to enable Bloomfield parents to enjoy a dinner date night. From Wednesday, August 10th through Friday, August 12th, the Bloomfield Recreation Department will host up to 18 children between the hours of 6 and 9 p.m. There will be age-appropriate games and activities for children in grades K – sixth grade. Dinner and refreshments will be provided. There is a $20 per-child, per-night fee. *Additional assistance will be provided to children with special needs*
All interested parents should contact the Bloomfield Recreation Department to be placed on the Drop and Dine list on a first-come, first-serve basis. PRE-REGISTRATION REQUIRED Contact the Bloomfield Recreation Department Mon - Fri, 8:30AM - 4:30PM, and Wednesday Nights 6PM - 8:30PM and Online registration @ http://www.bloomfieldrecreation.org Payment can be made over the phone at (973) 743-9074 via credit card or paid by cash, check or credit card in person at the Bloomfield Civic Center, 84 Broad Street.
Free parking for all participating restaurants during the entire Bloomfield Restaurant week courtesy of the Bloomfield Parking Authority SATURDAY 8/6 – SUNDAY 8/14, There will be two hour complimentary parking beginning at 11:00 am at all bagged meters. Please adhere to the two hour courtesy parking limit. Time limit will be strictly enforced.
Check the website for updates on participating restaurant and special menus and pricing at http://www.BloomfieldRestaurantWeek.com