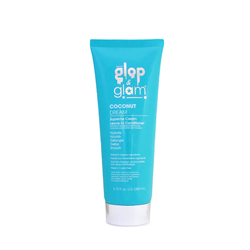 "Hydrates, Softens & Detangles, leaving hair feeling silky smooth, soft & healthy!"
Santa Barbara, California (PRWEB) November 09, 2016
Glop & Glam Hair Products is thrilled to announce the addition of 'COCONUT DREAM SUPREME CREAM' LEAVE-IN CONDITIONER to its line of Natural and Organic Hair Products made for the Next Generation™. With this launch Glop & Glam continues its tradition of delivering the finest professional salon products to the children's market while helping solve the ever-present challenge presented by tangled, dry, unruly hair.
Celebrity Hairstylist and Founder of Glop & Glam, Andrea Ridgell (Mishay Salon & Spa), developed 'COCONUT DREAM SUPREME CREAM' Leave-in Conditioner to help eliminate tangles and "nourish 'thirsty hair' without weighing it down or leaving it feeling 'greasy' and built up" said Ridgell. "Most leave-ins on the market don't effectively balance the conditioning needs of dry hair with residue-free manageability required for everyday use" said Ridgell, "parents usually end up using a combination of products that often end up making things worse"
Through several rounds of testing with factories and consumer focus groups, Ridgell found the perfect formula – fitting both the brand philosophy of Glop & Glam and the professional salon standards achieved by the entire Glop & Glam Line.
'COCONUT DREAM SUPREME CREAM' Leave-in Conditioner acts as a weightless "hair chapstick", satisfying the thirstiest hair, hydrating and detangling the toughest tangles all while elevating shine and leaving hair feeling youthful, silky-smooth & soft. Just like every product in the Glop & Glam line – 'COCONUT DREAM SUPREME CREAM' Leave-in Conditioner is made with Natural & Organic ingredients and is free from Paraben, Alcohol, Sulfate, Phthalates and Gluten + Vegan & Cruelty Free and it contains Natural Lice Preventative Ingredients!
About Glop & Glam
Glop & Glam was founded to provide healthy, fun, safe, effective, natural & organic hair care products for the Next Generation™. Developed by a hairstylist for her kids, and yours – Glop & Glam delivers products that are safe for the softest & most sensitive skin yet effective on all hair types. Glop & Glam's vegan and cruelty free formulas contain natural lice preventative ingredients, rid of parabens, phthalates, alcohol and sulfate and infuse blends of nutrient-rich extracts like Aloe, Echinacea and Green Tea. Glop & Glam is the best, professional salon kids product line on the market, designed, developed and produced in the USA. Products range in price from $4-18 and are available at fine salons and distributors nationwide, GlopandGlam.com. http://www.glopandglam.com/.
Spencer Foosherian
spencer(at)glopandglam(dot)com