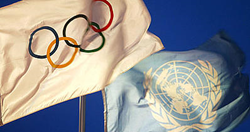 Peace does not mean an absence of conflicts; differences will always be there. Peace means solving these differences through peaceful means; through dialogue, education, knowledge; and through humane ways... Dalai Lama XIV
San Francisco, CA (PRWEB) April 06, 2016
Sport for Development and Peace is an opportunity to recognize the potential of sport to contribute to the achievement of the Millennium Development Goals. At the same time, the Day underlines that sports can foster peace contributing to an atmosphere of tolerance and understanding which is part of the Blind Judo Foundation's mission.
April 6, 1896 was the first day of what is considered the modern Olympics. Therefore, the UN's International Day of Sport for Development and Peace has assigned April 6 as a recognizable day to promote sports for development and peace to all around the world.
Sport, as a tool for education, development, peace promotes cooperation, solidarity, tolerance, understanding, social inclusion and health at the local, national and international levels. Its intrinsic values such as teamwork, fairness, discipline, respect for the opponent and the rules of the game are understood all over the world harnessing the advancement of solidarity, social cohesion and peaceful coexistence.
With 2016 being the year of the Olympics and Paralympics, it is appropriate to recognize April 6 as a day to pull back the curtain of strife and people around the world using sports to palliate a more concerning and caring relationship through out the world.
Join the Blind Judo Foundation and spread the word about April 6 with the opportunity of making a difference through sports.
About Us:
The Blind Judo Foundation is a nonprofit 501(c) (3) organization that introduces and trains blind and visually impaired children, young adults and our returning blind and visually impaired military men and women in the sport of Judo. Supporting our blind athletes to train, travel, attend camps and compete relies upon tax-exempt donations.
All members of the Blind Judo Foundation are volunteers. A select few of our elite athletes go on to represent the USA as members of the US Paralympic (not to be confused with Special Olympics) Judo Team. Ron C. Peck can be contacted at roncpeck(at)blindjudofoundation(dot)org or 1-425-444-8256 or Coach Willy Cahill at 1-650-589-0724