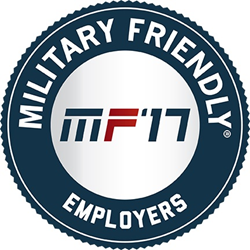 Pittsburgh, PA (PRWEB) August 04, 2016
This week the 2017 Military Friendly® Employers survey opened to leading companies nationwide looking to build sustainable, effective programs to recruit and retain talent from the military community. The survey helps mid-size and large employers assess and benchmark how Military Friendly® their policies and programs are for veterans, Guard and Reserve members and military spouses. Based on more than a decade of research, Military Friendly® ratings have provided service members and their families with information about their best post-military education and career opportunities.
The Military Friendly® Employers program has evolved and grown with the needs of the military community and the positive response of companies interested in hiring military talent. A significant change for 2017 is the consideration of three sources of data in the scoring: publicly available company data; personal opinion data from military employees; and proprietary survey data—all establishing new benchmarks for eligibility based upon a core set of outcome data.
Public data is obtained from the GSA, Consumer Financial Protection Bureau and the Department of Labor's OFCCP, Wage & Hour and VETS100 agencies. Supplementing public data will be responses from participating companies in six categories deemed critical to helping veterans thrive in the workplace:

Career Opportunity & Advancement
Culture & Commitment
Hiring & Onboarding
Military Employee Policies & Compliance
Military Employee Support & Retention
Recruiting & Sourcing
Final ratings will be determined by combining an organization's Military Friendly® Employers proprietary survey score with the assessment of the organization's ability to meet minimum thresholds for Applicant, New Hire Retention, Employee Turnover, and Promotion & Advancement of veterans and military employees.
Also new for 2017 will be the Military Friendly® Employers Awards showcasing the most powerful and effective programs supporting veteran and military students. Awards will be by industry, with leader and various performance levels recognized in each category. Organizations must successfully complete the 2017 survey and qualify as a 2017 Military Friendly® Employer to be considered for the 2017 Awards program.
Participation in the survey and awards program is free, and all Military Friendly®-designated employers receive free use of the Military Friendly® Employers logo. Surveys must be submitted by August 31 to be considered for the awards program and publication in the annual print guide, which is distributed in military transition classes and across U.S. military bases and communities worldwide.
Companies may request their complimentary survey link at http://www.militaryfriendly.com/startsurvey. More information about Military Friendly® ratings can be found on http://www.militaryfriendly.com.
+ + +
About Military Friendly®:
The Military Friendly® Employers designation process includes extensive research and a data-driven survey of leading companies nationwide with annual revenue of $100MM or above. The survey, methodology, criteria and weightings are developed with the assistance of an independent advisory council of educators and employers, and tested by Ernst & Young LLP based upon the weightings and methodology established by Victory Media. The survey is administered for free and open to eligible companies. Criteria for consideration can be found at: http://www.militaryfriendly.com.
For further information or to arrange interviews, contact:
Barbara Pflughaupt, BP Media Relations, at 212-707-8181