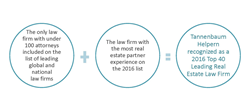 Our practice is sized strategically to provide clients with cost efficient and quality hands-on representation from experienced real estate attorneys
New York, NY (PRWEB) September 08, 2016
Tannenbaum Helpern Syracuse & Hirschtritt LLP is proud to announce that its Real Estate practice has been ranked as a 2016 top 40 Leading Real Estate Law Firm by Multi-Housing News, which has provided in-depth news and analysis of the multi-housing industry for 49 years, and Commercial Property Executive (MHN-CPE), a leading resource for executives and companies that own, invest in, develop, lease and/or manage commercial real estate. MHN-CPE's annual ranking recognizes the most powerful real estate law practices in the US according to MHN-CPE. Ranking is based on a number of factors, including experience of real estate associates, number of offices, revenues, employees, tenure of real estate staff and recent work.
Tannenbaum Helpern was the only firm under 100 attorneys included on this list of leading national and global law firms, with a vast majority of firms having more than 500 attorneys. It is also noteworthy that Tannenbaum Helpern's partners boast the most years of experience of any firm on the list.
"We are thrilled to be recognized among the elite commercial real estate practices," says Robert Helpern, Co-chair of Tannenbaum Helpern's Real Estate practice and a founding partner of the law firm. "For over three decades, we have been representing national, regional and local owners, developers, private equity investors, lenders and tenants in commercial real estate transactions, bringing to each deal big firm experience with the personalized approach of a boutique practice."
"Our practice is sized strategically to provide clients with cost efficient and quality hands-on representation from experienced real estate attorneys," says Eric Schoenfeld, Co-chair of the firm's Real Estate practice. "In particular, our group is highly responsive and flexible in adapting to clients' various needs. In addition, within our real estate practice, we have attorneys who are fluent in a second language, such as Mandarin Chinese, which adds to the level of service we are able to provide in today's global market."
About Tannenbaum Helpern's Real Estate practice
Tannenbaum Helpern's Real Estate practice consists of experienced real estate attorneys who regularly advise on commercial and retail leasing, commercial and residential developments, joint ventures, sales and acquisitions, financing, workouts and loan restructuring. With deep experience across a broad spectrum of property types, Tannenbaum Helpern counsels clients on real estate transactions involving office, shopping centers, hotels, hospitals, healthcare facilities, storage facilities, industrial and warehouse properties, multi-family and mixed-used developments. Clients the practice represents include public companies, REITs, real estate private equity funds, national and regional owners, investors, developers, property managers, institutional lenders, hotel operators, and national and regional retail chains.
About Tannenbaum Helpern Syracuse & Hirschtritt LLP
Since 1978, Tannenbaum Helpern Syracuse & Hirschtritt LLP has combined a powerful mix of insight, creativity, industry knowledge, senior talent and transaction expertise to successfully guide clients through periods of challenge and opportunity. Our mission is to deliver the highest quality legal services in a practical and efficient manner, bringing to bear the judgment, common sense and expertise of well trained, business minded lawyers. Through our commitment to service and successful results, Tannenbaum Helpern continues to earn the loyalty of our clients and a reputation for excellence. For more information, visit http://www.thsh.com or follow us on Twitter: @THSHLAW.