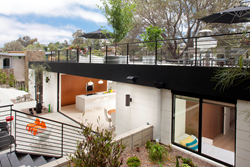 During the 2016 San Diego MA+DS Home Tour, attendees will have the opportunity to explore a selection of modern homes in the San Diego area that exemplify modern architecture, design, and living.
San Diego, CA (PRWEB) September 23, 2016
Modern Home Tours returns to southern California for a fourth self-guided tour of modern homes in the area this fall. This year, the group returns as the new Modern Architecture + Design Society (MA+DS), a new multi-media/multi-function entity that aims to create a vibrant, global community of modern architecture and design enthusiasts through multiple platforms that inspire engagement with the people, places, and things that define the "modern" movement.
During the 2016 San Diego MA+DS Home Tour, attendees will have the opportunity to explore a selection of modern homes in the San Diego area that exemplify modern architecture, design, and living. Tour-goers can get the inside scoop from homeowners on what it's like to live in a modern home, and talk to the architects to find out where they got their inspiration. The event brings yet another rare chance for every San Diegan to see the inside of 'that unique, cool house on the block…'
The San Diego MA+DS Home Tour is a featured event in this year's Archtoberfest, presented by the San Diego Architectural Foundation. The SDAF has been named the tour's local non-profit beneficiary for the third year in a row. Members of the SDAF, along with students from the Design Institute of San Diego, will help staff the event.
The official line-up of participants and their locations for this year's San Diego Modern Home Tour are:

A brand new modern home in the Bird Rock area of La Jolla, designed by architect David Hertz in collaboration with Marmol Radziner, named in the top 100 architects of the world. This home combines energy efficient living spaces with a harmonious composition of textures and craftsmanship. The home features open spaces, walls of glass, a pool/spa patio, and an expansive ocean view from the 2,000 square foot hardwood rooftop deck with fire pit.
The "Clea House" in Hillcrest designed and built by Nakhshab Development & Design. This home is a LEED Gold Certified mid-century modern-inspired dwelling that features 20-foot wide Fleetwood sliding glass doors that open to an expansive outdoor patio from the living room, panoramic views out a front wall of windows that spans almost the entire length of the home, and an elevator.
A new home in the northern edge of Pacific Beach designed by De Bartolo + Rimanic Design Studio and built by Tourmaline Properties. This home features ocean views from the master bedroom and master balcony. Additional features include a standing seam metal roof, mahogany siding, Western windows and door systems, hardwood floors throughout, Silestone countertops, Heath Ceramics tile, and Thermador appliances.
A second look at a home from the 2015 Modern Home Tour. This home in La Jolla, designed by Simi Razavian CGBD, LEED AP, at MSA & Associates Inc. was just shell on last year's tour. This time around, see it fully decorated and lived in. The home boasts a number of green design strategies that make for an energy efficient home that is a place of tranquility and peace.
A second Hillcrest home, brand new and designed by Architects Magnus. The home is called Bridge House, for the bridge that connects the main residence to a separate garage/studio. The buildings are separated by a 10-foot City utility easement, running front to back, around which the home had to be built. In the end, the easement became a landscaped focal point, rather than a detriment, to the property.
Participating homes in the 2016 San Diego MA+DS Home Tour will open their doors for viewing from 11AM – 5PM on Saturday, October 15th, in the San Diego, California, area. All are invited to attend. Tickets for the tour are $35 in advance online; $40 on the day of the tour. Kids under 12 are FREE when accompanying their parents. To see a current line-up of homes with details and photos, and to buy tickets, visit: http://mads.media/mads-sandiego2016
About the Modern Architecture + Design Society: Based in Austin, Texas, the Modern Architecture + Design Society was founded was founded by James Leasure in 2010 as Modern Home Tours, to introduce modern architecture and living to people across the nation. Through fun and informative self-guided home tours in dozens of cities across the USA and Canada, the group invites people into some of the most exciting examples of modern architecture and design in the nation. With carefully selected architects, neighborhoods and architecture, the MA+DS Home Tours are unlike anything you've ever seen. Not only will you learn about the cutting edge of home design while on our tours, but you might even get an idea or two for your next home project!