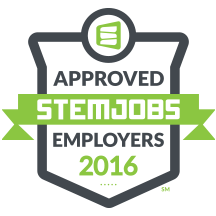 "STEM JobsSM Approved awards help employers, colleges and K12 schools understand the kinds of efforts critical to promoting and developing highly effective, efficient STEM programs," said Glen Zollman, vice president of STEM Jobs.
Pittsburgh, PA (PRWEB) April 26, 2016
Victory Media, the leader in connecting professionals in transition with viable education and career opportunities, today announced its updated list of 2016 STEM JobsSM Approved Employers. The 2016 STEM Jobs Approved Employers list at http://stemjobs.com/sja/employers is the first of its kind to rate companies on their responsiveness to creating and filling high-demand, high-growth STEM occupations. The Top 50 STEM Jobs Approved Employers are featured in the Late Spring 2016 issue of STEM Jobs magazine, along with industry breakdowns, a special profile of this year's top-ranked employer, BP, and the entire list of recipients.
"BP's commitment to STEM is about inspiring and supporting the next generation of innovators — those who will develop the technologies of tomorrow to create the jobs of the future," said Ray Dempsey, vice president of external affairs at BP America. "We continue to do our part to help improve pathways to STEM education and careers, and we are honored to be named the top 2016 STEM Jobs Approved Employer."
This year's top 10 STEM Jobs Approved Employers are:
1. BP America, Inc. Energy
2. Exelon Corporation Energy
3. Amazon Retail
4. Xcel Energy Energy
5. Energy Northwest Energy
6. Amtrak Transportation
7. SBA Communications
Corporation Technology & Telecom
8. Intelligrated Diversified Services
9. Oshkosh Corporation Defense
10. Discover Financial Services Finance
The complete list is available at http://stemjobs.com/sja/employers.
"STEM JobsSM Approved awards help employers, colleges and K12 schools understand the kinds of efforts critical to promoting and developing highly effective, efficient STEM programs," said Glen Zollman, vice president of STEM Jobs. "Achieving this recognition highlights the programs that are doing the most to help students understand the value of STEM and the career opportunities that exist."
Companies that submitted surveys were scored on publicly available data and responses to proprietary questions around three key indicators of success: STEM hiring practices and career path opportunities; workforce diversity in STEM positions; and outreach to and alignment with STEM education programs. The survey assessment was free, and rights to the STEM Jobs Approved Employers designation were made available to qualifying companies for no cost.
According to a 2015 report by The Manufacturing Institute and Deloitte, in the manufacturing sector alone nearly three and a half million jobs will need to be filled over the next decade, but two million are expected to go unfilled because there are not enough candidates with the right skills. This follows The Wall Street Journal CEO Council report in late 2014 that the number one priority for today's CEOs is developing the "21st Century workforce," calling for employers to partner with educators to engage students and our future workers in STEM curricular activities and to improve focus on STEM and technical training.
Employers wanting to showcase the great things they are doing to promote and grow tomorrow's skilled workforce can be considered for STEM Jobs Approved status by taking the free survey at http://stemjobs.com/sjasurvey.
For additional information about STEM Jobs visit stemjobs.com.
# # #
About STEM JobsSM Ratings
STEM JobsSM delivers a number of services to colleges, employers and school districts nationwide, such as performance benchmarking, recruiting solutions, workforce advisement and professional development tools, as part of its mission to bridge the gap between the classroom and high-growth careers in STEM. The company is a division of Victory Media, a workforce development firm founded in 2001 specializing in connecting classrooms to careers and helping young professionals in transition. Victory Media produces media, ratings and training solutions used by Fortune 1000 firms, colleges and school districts nationwide. In addition to STEM JobsSM, its media brands include G.I. Jobs®, Military Friendly®, Military Spouse and Vetrepreneur®.
The STEM JobsSM Approved Employers survey measures how effectively companies produce high-demand, high-paying STEM jobs, and how well they connect with educators to help students pursue and achieve career aspirations in STEM fields. Ratings are based on a complimentary and rigorous quantitative assessment that measures companies on criteria created by Victory Media with the assistance of an independent Advisory Board. A complete description is available at http://www.stemjobs.com.
About BP America
Over the past 10 years, BP has invested more than $90 billion in the U.S.—more than any other energy company. BP is a leading producer of oil and gas and produces enough energy annually to light nearly the entire country for a year. Employing about 16,000 people across the country, BP supports more than 170,000 additional jobs through all of its business activities.
For more information or to arrange interviews, contact Barbara Pflughaupt, BP Media Relations, LLC, at 212-707-8181, Gabrielle Torello at 917-312-2832, or Austin Staton, BP America, at 713-323-1519.