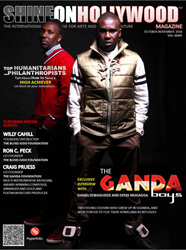 "Life isn't about finding yourself. Life is about creating yourself." ― George Bernard Shaw
Redmond, WA (PRWEB) November 29, 2016
Shine On Hollywood Magazine (SOHM) Founded by Arnold Garcia, Editor-in-Chief, is only four years old and already reaches over 26.6 million readers in more than 140 countries around the world. "Its mission is to provide a positive, meaningful and educational experiences and to inspire readers with knowledge and information from a creative and qualifying industry of professionals," says Arnold Garcia.
Garcia leaned of the Blind Judo Foundation from a three time Emmy Award Winner, William Kidston, a recognized Hollywood photographer and videographer and Co-Founder of Inclusive TV (ICTV). Ron Peck said, "If it wasn't for Kidston, we might not have been discovered by the Magazine." Peck was subsequently introduced to Garcia with the result of being featured along with his friend and business partner Coach Willy Cahill for the 2016 October November issue of SOHM.
Garcia is the atypical Hollywood perception of self-interest and money domination. His humble experiences have encouraged him to find others of similar life experience. Thus, when he learned of Coach Willy Cahill and Ron C. Peck, he recognized an opportunity to let others know of this effect.
The SOHM video included with this Press Release is the launch party of four years ago.
The SOHM articles document humble beginnings of Cahill growing up on Oahu, Hawaii and at five years of age experiencing the bombing of Pearl Harbor with an unexploded bomb landing just across from his parents' home. Very loving parents with grounded and humble principles are still seen today in their son Willy.
Cahill was diagnosed with Polio at seven years of age with a zero chance of walking out of the hospital on his own; to moving to the main land (SF Bay Area) with his parents and siblings; US Army military service; becoming the US Olympic and US Paralympic Judo Coach; creating champions of the blind and visually impaired willing to step onto the Judo mat is a life changer.
Get the full story of Willy Cahill in the 2016 issue of SOHM starting on page 84. You will learn of the humble beginnings of Coach Cahill and his rise to not only walking out of the Shriner's Hospital for Children cleared of Polio but in his legacy in the sport of Judo having created over 1,500 national and international champions in the sport of Judo.
Peck comes from a Wisconsin middle-class family with no interest at the time in sports and especially any form of martial arts. With some wrestling experience in high school, it did little to garner any interest in athletic competition. His interest was more academic starting out in Amateur Radio (a license he retains today) to interests in sales, marketing, management, electronics, anatomy, physiology and medicine.
After several years in the diagnostic imaging, radiation oncology and treatment planning field with fortune 500 companies, it was time to return to the US from a four-year assignment in Switzerland. Landing in the SF Bay Area, and as a regular at a local gym is where the seed of creating the Blind Judo Foundation was formed.
Befriending Cahill has allowed Peck to create the Blind Judo Foundation and partner with a master of creating champions not only in the sport of Judo but for all willing to step onto the Judo mat to live a life unmatched using the principles of Judo.
Be sure to check out the November 2016 issue of SOHM starting on page 122 to learn more about Ron C. Peck.
A special thanks to William Kidston of Inclusive TV (ICTV) for the introduction to Arnold Garcia of Shine On Hollywood Magazine and for Garcia's preponderance to shine light on the blind and visually impaired of the Blind Judo Foundation.
About us:
The Blind Judo Foundation is a nonprofit 501(c) (3) organization who introduces and trains blind and visually impaired children, young adults and our returning blind and visually impaired military men and women in the sport of Judo. Supporting our blind athletes to train, travel, attend camps and compete relies upon your tax-exempt donations.
All members of the Blind Judo Foundation are volunteers. A select few of our elite athletes go on to represent the USA as members of the US Paralympic (not to be confused with Special Olympics) Judo Team. More about the Foundation can be seen on our Facebook page. Ron C. Peck can be contacted at roncpeck(at)blindjudofoundation(dot)org or 1-425-444-8256 or Coach Willy Cahill at 1-650-589-0724, Co-Founders of the Foundation