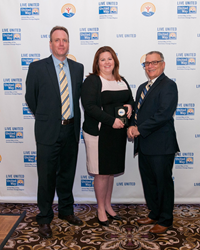 Poughkeepsie, New York (PRWEB) May 27, 2016
The United Way of the Dutchess-Orange Region (UWDOR) recently held a Celebration of Service Gala where they recognized ongoing support from The Children's Medical Group, and formerly from The Children's Medical Group, Founding Partner, Daniel Z. Aronzon, MD FAAP.
The April 6th gala and benefit recognized key members of the Hudson Valley community, including volunteers, donors, community partners, and sponsors. Jennifer Gardiner, HR & Marketing Manager, was proud to receive the Business Leadership Award from UWDOR board vice chair Dave Jolly and board chair Barry Rothfeld on behalf of The Children's Medical Group.
The UWDOR also recognized long-time United Way volunteer and community leader, Dr. Daniel Aronzon, with their Distinguished Leadership Award during the gala. Dr. Daniel Aronzon is the second person to receive this prestigious award.
Jeannie Montano, President & CEO of UWDOR, also spoke and she highlighted the importance of working in partnership with others. "United Way could not accomplish its mission to build a stronger and healthier community without the support of these many dedicated volunteers, businesses and nonprofits. It is an honor to celebrate those who go above and beyond the call of duty in service to our community."
###
About The Children's Medical Group
The Children's Medical Group offers comprehensive pediatric care to the children of the Hudson Valley. Their professional team is comprised of Board Certified Pediatricians and experienced Certified Pediatric Nurse Practitioners, and they have been recognized by the National Committee on Quality Assurance (NCQA). The Children's Medical Group has offices in Dutchess, Orange and Ulster counties and they provide care 365 days a year. They offer routine well care visits, same day sick visits, evening, weekend, and holiday availability, as well as full in-office laboratory services.