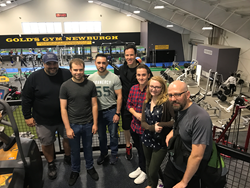 "After visible success of last year's program, we decided to expand our employee wellness program." -Joe Beccalori, CEO
New Windsor, New York (PRWEB) October 04, 2017
For the second year, Interact Marketing, a leading NY digital marketing agency has reinforced its commitment to employee wellness. On Friday, the team toured the newly expanded Gold's Gym in Newburgh, New York where employees will be able to take advantage of subsidized access to all facilities offered. "After visible success of last year's program, we decided to expand our employee wellness program," said CEO Joe Beccalori, CEO of the NY marketing firm.
After visiting Google's Headquarters, Beccalori was inspired to create the wellness program as he witnessed firsthand how innovation can only thrive in an environment where minds are unclouded by stress and other health issues. The partnership with Gold's Gym is another step to providing tools for employees to get in control of their well-being. Gold's Gym Newburgh has an expansive facility complete with a wide variety of classes, an indoor pool, an indoor track, and holistic health services, to name a few.
With burnout becoming a problem for other competitive agencies, Interact Marketing takes a proactive approach to encouraging employee wellness to not only get the most out of the team, but also to improve morale and foster a healthier work environment. The benefits of employee wellness programs to the company and the team have been emphasized by industry innovators and fortune 500 companies. As a leading NY digital agency located a train ride away from the hustle and bustle of New York City, Interact Marketing has adopted the corporate wellness programs seen typically in larger city-based agencies while still enjoying the benefits of being headquartered in the Hudson Valley.
This employee wellness program approaches health a level up from just a discounted gym membership. "A lot of people think that going to the gym is mostly about weight loss, but that simply isn't true," remarked Don Murphy, owner of Gold's Gym Newburgh, "When one considers all the benefits that healthy eating and exercise can provide it's a very long list."
Exercise & Healthy Eating Enables You To:
*Lose Weight
*Increase Your Energy
*Improve Mood and Outlook
*Increase Self Confidence and Self Esteem
*Overcome Stress, Anxiety, or Depression
*Sleep Better
*Increase Mental Clarity and Focus
*Feel Young and Vibrant
*Enhance Work Productivity
*Decrease Your Blood Pressure
*Lower Your Cholestersol
*Prevent Osteoporosis
*Overcome Diabetes
*Reduce or Eliminate Meds
*Be Happy
*Live Longer With Quality
In the last two years, Interact Marketing has really stacked up its wellness benefits and is officially "all in" on wellness. The new additions to their employee wellness program include:
-Gym Enrollment Waived at Gold's Newburgh, Free Three Day Pass
-Gym Membership Re-Imbursement via Health Care and Company Kick-In (Any Gym)
-In Office Rebounder, Band Workouts, and Light Dumb Bells
-Free Organic Soups
-Subsidized Home Workouts via Beach Body Online (Over 400 Workouts Available)
Since the program was implemented, office perks include:
*Healthy Snack Days
*Subsidized Team Fruit Bowl
*Free Shakeology, Wheat Grass Shots, Stevia Alternate Sweeteners
*Double UV Filtered Water Cooler
*Functional Kitchen in Break Room - (toaster, griddle, blender, juicer, smoothie maker, and microwave)
*Optional Stretching Workouts 2 Days Weekly
*Outdoor Walking Meetings
*Outdoor Picnic Tables
*Early Friday Departures for Longer Weekends and better R&R
All programs are completely optional, with an emphasis put on empowering the individual to make choices that are right for them. There's no pressure for team members who prefer to opt out of activities.
About Interact Marketing:
Interact Marketing is a full-service digital marketing agency based in the Hudson Valley in New Windsor, NY. The agency specializes in organic search engine optimization (SEO), pay per click advertising (PPC), website design and development, content and social media marketing, and online reputation management for brands and executives. Interact Marketing is also a Google Partner Agency. It is one of the fastest growing agencies in New York's Hudson Valley region with 472% organic revenue growth in five years (2010-2015).
About Gold's Gym Newburgh:
Gold's Gym Newburgh is a 73,500 square foot health and fitness mecca with a focus on energizing fitness environments, programs, classes, and amenities that cater to the entire family. Having recently undergone a $2.1 million expansion and renovation, it was awarded 2017 Best Improved Gym and Best Group Exercise Program in North America. The club was co-founded by local resident, Mary Murphy, in 1986 and continues to be owned and operated by her and her son (Managing Partner), Don Murphy.