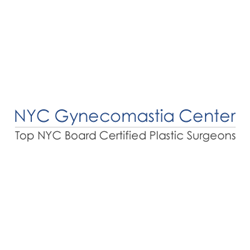 New York, NY (PRWEB) October 11, 2017
The board certified plastic surgeons of NYC Gynecomastia Center https://www.gynecomastiacenternyc.com located in Manhattan, New York announced today that they are now offering virtual consultations for gynecomastia surgery candidates. Gynecomastia plastic surgery, commonly referred to as "male breast reduction surgery", removes excess fat and glandular tissue and restores the male chest to a more aesthetically pleasing appearance. Currently there is no FDA approved drug or medical literature which supports an alternative to gynecomastia surgery to reduce the over-developed male breasts.
NYC Gynecomastia Center has acquired not only a New York state wide reputation for international excellence in gynecomastia surgery but throughout the world. Patients from all over the United States and all over the world have traveled to NYC to visit with the gynecomastia specialists for evaluation, diagnosis, and surgical treatment of their gynecomastia. "Many of my gynecomastia patients lead very busy lives and travel from around the word for a consultation at our center. Not all patients are candidates for gynecomastia surgery. Virtual consultations allow the patient to be pre-evaluated before scheduling necessary travel to NYC or to take time off from their busy lives for pre-approval for surgical intervention," stated Dr. Douglas Senderoff – a board certified plastic surgeon and director of NYC Gynecomastia Center.
Candidates for gynecomastia surgery include the stabilization of breast development and weight as well as the medical clearance that gynecomastia is not due to an underlying medical issue.
Virtual consultations are conducted using an internet or smartphone camera. Both surgeon and patient meet in a private virtual space. During the virtual consultation, the doctor's visit is not just another doctor's appointment - it's an authentic medical experience and allows the confirmation for a gynecomastia candidate to proceed with surgical intervention.
About the NYC Gynecomastia Center
NYC Gynecomastia Center exclusively offers gynecomastia (male breast reduction) surgery. Our credentials include: New York "Super Doctors", New York "Top Doc", Real Self "Top Doctor", "Top Plastic Surgeons in NYC": Guide to America, Fellow, American College of Surgeons, Diplomate, National Board of Medical Examiners, Diplomate, American Board of Plastic Surgery, Member, American Society of Plastic Surgeons, Member, New York State Medical Society, Member, International Society of Aesthetic Plastic Surgery, Member, International Society of Plastic & Regenerative Surgeons, Member, The American Society for Aesthetic Plastic Surgery, Member, Medical Society of the State of New York, Member, New York County Medical Society, and Member, New York Regional Society of Plastic Surgeons.
NYC Gynecomastia Center
461 Park Ave S
FL 7, Ste B
New York, NY 10016
(212) 658-0449
https://www.gynecomastiacenternyc.com