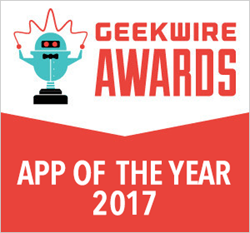 Ripl, Inc. founder and CEO Paul Ingalls thanked his team and loyal users for the Ripl app win as Geekwire 2017 App of the Year.
SEATTLE, WASHINGTON (PRWEB) May 10, 2017
Ripl, Inc., maker of the leading mobile marketing software application for small businesses, was nominated by the community and entered as a Finalist in the GeekWire Awards annual technology industry competition for App of the Year. The public was asked to vote from the finalists chosen by the judges for their favorite mobile app.
On May 4th, the finalists for all the categories convened at the Museum of Pop Culture in Seattle, Washington, for the Awards ceremony to reveal the winners of 2017. Ripl won App of the Year honors in a category which included other strong finalist apps by Microsoft Teams, Mighty AI, Shyft Technologies, and Senosis Health.
Paula Boyum, Associate Dean of Northeastern University presented the App of the Year award to Paul Ingalls, founder and CEO of Ripl, Inc. In his acceptance speech, which he delivered accompanied by his team on stage, Ingalls mentioned how Ripl's success is attributed to the hard work of his team and the enthusiastic support of Ripl's hundreds of thousands of active users.
The Ripl App of the Year accolade adds momentum to the company after posting more than a year of steady gains in marketplace leadership, which includes the release in late 2016 of its Android app to accompany its established iOS app and the company having surpassed 1.25 million total Ripl app downloads. The company has announced plans to further expand this year into global markets with sizable micro-business presence and to continue delivering on its mission of providing "A Marketing Team in Your Pocket" through additional app and Pro subscription feature releases. The company also recently announced it had secured an additional $3 million in growth capital from a collective of primarily previous investors in a Series Seed 3 round of investment fundraising.
For more information about this and other recent news, please visit the company's News and Press page.
*****
About Ripl:
Ripl, Inc., is a privately-held software technology company based in Bellevue, Washington. The company provides mobile software and premium subscription services to small businesses globally, via its "Ripl"-branded iOS and Android mobile applications. The company is lead by founder and CEO Paul Ingalls. For more information about Ripl, its apps and the Ripl Pro premium subscription service, please visit: http://www.Ripl.com or the Ripl Facebook Page.