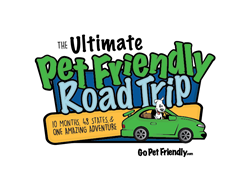 "The mission of GoPetFriendly.com's Ultimate Pet Friendly Road Trip is to help pet lovers across the U.S. learn how traveling with their pets safely and easily makes the trip more fun," states Amy Burkert, founder of GoPetFriendly.com.
Scottsdale, AZ (PRWEB) January 05, 2017
Starting from Carmel, California on February 11, 2017, GoPetFriendly.com will embark on the Ultimate Pet Friendly Road Trip, a 10-month, 15,000-mile RV tour of the United States to celebrate the bonds that grow between humans and pets as they travel together and to raise awareness for animals searching for their forever homes. More than just a fun adventure, this program is designed to promote pet travel and safety to pet lovers nationwide.
GoPetFriendly.com invites pet lovers everywhere to travel along vicariously on their blog and social media as they visit the #1 pet friendly attraction in each of the lower 48 states, and meet them in person at 17 free, live, and open to the public events along the route.
GoPetFriendly.com believes deeply in raising awareness for and promoting the rescue/adoption of pets – they rescued "Buster" as a stray, and he was the inspiration for the website.
The first Ultimate Pet Friendly Road Trip live event will take place on February 11, 2017 in Carmel in partnership with the SPCA of Monterey County. The subsequent 16 events throughout the tour will be co-hosted with The Humane Society of the United States, The Shelter Pet Project, and local animal shelters and rescues and support GoPetFriendly.com's mission to connect with fellow pet lovers and assist pets who would love nothing more than to be someone's travel buddy.
"From the dog friendly beach in Carmel, California to hiking the rocky shoreline of Maine's Acadia National Park, there are so many incredible, pet friendly places to explore across the country," said Amy Burkert, founder of GoPetFriendly.com. "We want people to see what's possible and help pet lovers across the U.S. learn how traveling with their pets safely and easily makes the trip more fun! This Ultimate Pet Friendly Road Trip tour will encourage more people to include their pets in their travel plans – whether they are headed around the block or across the country."
In 2016, 37% of pet owners traveled with their dogs and cats – up from 32% in 2014, and nearly doubling over the past ten years, according to the American Pet Products Association. With more than 100,000 miles in their own rear-view mirror, the Burkerts believes this trend will continue well into the future and hope that their 2017 nationwide tour will inspire more people to make memories with their pets by traveling together.
GoPetFriendly.com has partnered with Winnebago, PetGuide.com, TheBark.com, Sleepypod, 2 Hounds Design, Alcott, The Honest Kitchen, Red Roof Inns, and goDog® to make this trip, and the pet friendly travel education it will provide, possible.
For more information on The Ultimate Pet Friendly Road Trip, a schedule of events coming to a city near you, and pet travel resources, please visit events.GoPetFriendly.com.
Join the tour virtually by visiting GoPetFriendly.com or following #pawsomememories on social media (Facebook, Instagram and Twitter).
About GoPetFriendly.com
With information on more than 65,000 pet friendly hotels, campgrounds, restaurants, beaches, off-leash dog parks, pet supply stores, veterinarians and more across North America, GoPetFriendly.com has everything you'll need to plan a memorable trip with your pets. Not sure you're ready? The GoPetFriendly.com team has been traveling for 7 years in their Winnebago motorhome and provides all "paws-on-the-ground" insights, tips, and advice you'll need to make your trip a success. Rely on the 200+ pet friendly destination guides, and use the pet-focused Road Trip Planner to make traveling with your pets easy, safe, and fun!