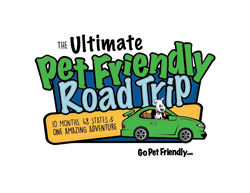 "It's been exciting to build our list of the Top Pet Friendly Attractions in the U.S., and visiting all of them with Ty and Buster on this 10-month tour is a dream come true," states Amy Burkert, founder of GoPetFriendly.com.
Scottsdale, AZ (PRWEB) April 12, 2017
GoPetFriendly.com is on a roll, making stops at the Top Pet Friendly Attraction in each of the lower 48 U.S. states and D.C. along The Ultimate Pet Friendly Road Trip.
Founders of GoPetFriendly.com, Amy and Rod Burkert, have been traveling full-time for more than seven years with their two dogs, Ty and Buster. In addition to sharing their adventures and pet travel tips on the Take Paws blog they gather information for the website's database of pet friendly hotels, campgrounds, restaurants, beaches, dog parks, and more. But 2017 is different – this year, the couple is on a mission to share the wide variety of pet friendly attractions that are available to people traveling with their pets.
"It's been exciting to build our list of the Top Pet Friendly Attractions in the U.S., and visiting all of them with Ty and Buster on this 10-month tour is a dream come true," states Amy Burkert. GoPetFriendly.com's selection for the Top Pet Friendly Attractions in each state was based on how well it represents the spirit of that state and contributed to the overall diversity of pet friendly adventures to be had all across the country.
"Many people think that traveling with their pets means they'll be limited to dog parks and takeout food. Sharing our experiences helps people see that the options are endless – from beaches to mountaintops, canoe trips to train rides, bustling cities to quiet retreats – pet lovers worldwide are fastening their seatbelts and traveling vicariously with us through the blog, on social media, and at our meet-up events along the way."
GoPetFriendly.com' List of Top Pet Friendly Destinations and stops on The Ultimate Pet Friendly Road Trip can be found at http://blog.gopetfriendly.com/1-pet-friendly-attraction-state and here is a list of each stop:
1. California – Carmel's Dog Beach
2. Nevada – Red Rock Canyon National Conservation Area
3. Arizona – Grand Canyon National Park
4. New Mexico – White Sands National Monument
5. Texas – San Antonio River Walk
6. Oklahoma – Wichita Mountains Wildlife Refuge
7. Arkansas – Canoe the Buffalo National River
8. Tennessee – Shelby Farms Park
9. Alabama – Little River Canyon National Preserve
10. Georgia – Rock City Gardens
11. Mississippi – The Natchez Trace Parkway
12. Louisiana – State Capitol Gardens in Baton Rouge
13. Florida – Fort De Soto Dog Beach
(Tampa Meet-up Event: April 15th)
14. South Carolina – Magnolia Plantation & Gardens
(Charleston Meet-up Event: April 22nd)
15. North Carolina – Biltmore Estate Gardens and Grounds
(Asheville Meet-up Event: April 29th)
16. Virginia – Colonial Williamsburg
(Williamsburg Meet-up Event: May 6th)
17. Washington, DC – The National Mall
18. Maryland – Cruise on Chesapeake Bay
(Annapolis Meet-up: May 13th)
19. Delaware – Walking Tour of Historic New Castle
20. New Jersey – Jersey Shore at Wildwood Dog Beach
(Philadelphia Meet-up: May 27th)
21. New York – Central Park
22. Connecticut – Mystic Seaport
(Mystic Meet-up: June 10th)
23. Rhode Island – Newport Cliff Walk
24. Massachusetts – The Freedom Trail
(Boston Meet-up: June 17th)
25. Maine – Acadia National Park
(Bar Harbor Meet-up: June 24th)
26. New Hampshire – Appalachian Trail at Mt. Washington State Park
27. Vermont – Dog Mountain
28. Pennsylvania – Lehigh Gorge Scenic Railway
29. West Virginia – Monongahela National Forest
30. Ohio – The Holden Arboretum
31. Kentucky – Abe Lincoln Birthplace National Historic Park
(Louisville Meet-up: July 22nd)
32. Missouri – Gateway Arch Park & Riverfront Trail
(St. Louis Meet-up: July 29th)
33. Indiana – Indiana Dunes National Lakeshore
34. Illinois – Chicago Lakefront Trail & Montrose Dog Beach
35. Michigan – Arch Rock on Mackinac Island
36. Minnesota – Split Rock Lighthouse State Park
(Duluth Meet-up: August 19th)
37. Wisconsin – Trempealeau National Wildlife Refuge
(La Crosse Meet-up: August 26th)
38. Iowa – Effigy Mounds National Monument
39. North Dakota – Knife River Indian Villages National Historic Site
40. South Dakota – Custer State Park
41. Nebraska – Oglala National Grasslands & Toadstool Geologic Park
42. Kansas – Monument Rocks
43. Colorado – Telluride Gondola to Mountain Village
44. Utah – Dixie National Forest's Red Canyon
45. Wyoming – Bighorn National Forest & Medicine Wheel
46. Montana – Beartooth Highway
47. Idaho – Dog Bark Park Inn
48. Washington – San Juan Islands
49. Oregon – Portland's Parks and Gardens
(Portland Meet-up: November 4th)
"Something magical happens when you experience something for the first time with your pet. The bonds that are forged in those moments will last forever," says Burkert. "By taking our dogs on this epic 10-month, 15,000-mile RV tour, we are celebrating those #PawsomeMemories and showing pet lovers the incredible experiences and places they can enjoy with their furry family members."
To ensure that everyone has the perfect travel companion, GoPetFriendly.com has partnered with The Humane Society of the United States, The Shelter Pet Project, and local animal shelters and rescues to host meet-up and adoption events along their route. It's a cause they're passionate about – they rescued "Buster" as a stray, and he was the inspiration for the website and the Burkerts' mobile lifestyle.
The Ultimate Pet Friendly Road Trip features these partners: Winnebago, PetGuide.com, The Bark, Sleepypod, 2 Hounds Design, Alcott, The Honest Kitchen, Red Roof Inns, PetHub, RV Pet Safety, and goDog®, whose support make this trip, and the pet friendly travel education it will provide, possible.
For more information on The Ultimate Pet Friendly Road Trip, a schedule of upcoming events in a city near you, and pet travel resources, please visit events.GoPetFriendly.com.
Join the tour virtually by visiting GoPetFriendly.com or following #pawsomememories on social media (Facebook, Instagram and Twitter).
About GoPetFriendly.com
With information on more than 65,000 pet friendly hotels, campgrounds, restaurants, beaches, off-leash dog parks, pet supply stores, veterinarians and more across North America, GoPetFriendly.com has everything you'll need to plan a memorable trip with your pets. Not sure you're ready? The GoPetFriendly.com team has been traveling for 7 years in their Winnebago motorhome and provides all the "paws-on-the-ground" insights, tips, and advice you'll need to make your trip a success. Rely on the 200+ pet friendly destination guides, and use the pet-focused Road Trip Planner to make traveling with your pets easy, safe, and fun!